Marina Rosenfeld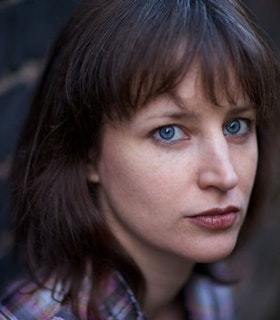 ... the grant was the foundation for so much activity this year—making it possible to seriously work when I needed to, travel when I needed to, fabricate objects and hire project assistance when I needed to, and in general, know that the work I was doing had something like a structure underneath it, which was meaningful both economically and psychologically. Knowing that something as simple as redoing an audio mix or re-casting a horn could be undertaken if I wasn't satisfied with the results the first time around, or that if I needed an extra sonority in a composition, or imagined another position within a staging, that I could bring in one more musician or participant, made this year feel like a gift over and over again.
- Marina Rosenfeld, December 12, 2011
Artist Statement
My work takes off from the idea that music arises out of material as well as aesthetic conditions, and that grappling with these can make for transformative musical situations. It's been productive for me to entertain the proposition that we encounter music first as simply a portion of time set off or apart from other time by awareness or agreement, essentially a constellation of ephemeral or temporary conditions, non-abstract and circumstantial. I've played with ideas like the cover version, the orchestra as social experiment, amplification and the loudspeaker as competing diagrams of the diffusion of sound into public space. I've created choirs and orchestras of single instruments, custom sound systems for my own and others' music, dub plates, resonating objects, and video that drives or harnesses musical decision-making, among other things. I'm equally interested in mood, spectacle, knowledge, and in the possibility that a kind of unfolding is inherent in time-based work, but one that isn't necessarily narrative or dramatic (though it can be those) but situational, engaged with site and the presence of bodies. My early training also instilled in me a serious reverence for written music, for notation and its almost magical symbolic function. So the problem of the score is another area I find I return to. Overall, my work always seems to return to a preoccupation with the situation of music-making and the complexity of what goes on there.
- December 2010
Biography
Marina Rosenfeld is a composer and artist who works in the area of hybridization between the domains of music composition and contemporary art. She has created chamber and choral works, including the acclaimed performances Teenage Lontano (2008), Cannons (2010), and FCA-supported roygbiv&b (2011), a large-scale performance/installation work for The Museum of Modern Art. Funds from her Grants to Artists also supported the recording from ambisonic recordings that were made at The Museum of Art performance.
She also created a series of conceptual "orchestras" for floor-bound electric guitars and other sculptural scenarios, and, since 2008, a series of installation/performance works that deploy unamplified live performers and custom loudspeaker installations. As a turntablist, Rosenfeld has worked with hand-crafted dub plates since the late 1990s, creating solo and ensemble works, and performing improvised music with collaborators from George Lewis to Christian Marclay and Otomo Yoshihide.
Rosenfeld's work has been presented throughout Europe, North America and Australia, including solo projects for The Museum of Modern Art, the Whitney Museum of American Art; Ultima Oslo Contemporary Music Festival, Norway; and the Whitney, Liverpool and PERFORMA Biennials. Her projects include the orchestra work Free Exercise (2013), staged within the multiple, linked galleries of the Bergen Kunsthall; roygbiv&b (Version for South London) (2014) at South London Gallery; and live music for choreographer-artist Ralph Lemon's Scaffold Room (2014) at the Walker Art Center, Minneapolis. Rosenfeld's last release, P.A./HARD LOVE (2013), constructed out of site recordings from the installation work P.A. (2009) also featured collaborators, Jamaican vocalist Annette Henry, aka Warrior Queen, and cellist Okkyung Lee.
Prior to her 2011 Grants to Artist, Rosenfeld received a New York Foundation for the Arts Fellowship in Music Composition (2004), a New York State Council on the Arts Grant in Media & New Technology Production (2009), and was an artist-in-residence at the Park Avenue Armory (2008-2000), and the Headlands Center for the Arts (2010).
Rosenfeld received a B.A. in Music from Harvard College (1991), and an M.F.A. in Music and Fine Arts from the California Institute of the Arts (1994). Rosenfeld has co-chaired the graduate program in Music/Sound at Bard College since 2007. She is also currently Senior Visiting Critic in Sculpture at Yale School of Art.