Martin Kersels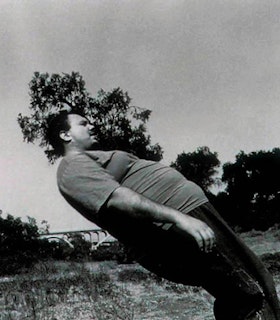 During the grant period I created work for two gallery exhibitions, one museum exhibition, and prepared myself to create more work. What can I say? The FCA grant was magic for me.
- Martin Kersels, August 18, 2008
Artist Statement
Sitting in slow traffic on the Pasadena Freeway offers me time to think. Time to think about what I'm going to talk about in an upcoming class. Or my family's plans for the weekend. Or who's going to pick up our son. But what I really like to think about is what's going on in the studio. Traffic, or more correctly slow traffic, gives me time to ponder the concrete aspects of my work (meaning, function, etc.). A great deal of time is spent in this process. It seems that every decision made presents two more decisions to make. In my case, my car is not just a means of transportation; it is an extension of my studio.
- 2000
Biography
Martin Kersels is a visual artist who often creates installations that include large-scale sculptures, photography, and video. Kersels work frequently incorporates performance, and from 1984 to 1993 he performed with the group SHRIMPS.
Following his FCPA Grants to Artists award, Kersels created a large-scale sculpture titled Tumble Room (2001). He mounted a young girl's room, with all its furnishings and decorations, sideways on a circular track that spun and smashed the contents of the room. The detritus was ejected through a hole cut into the side of the room and collected around the fence enclosing the sculpture. A video shows a dancer elegantly performing in the room while it rotates and the furniture is bolted down. Kersels then navigates the room with the furniture unbolted. For the 2010 Whitney Biennial, Kersels created a space that was both a sculpture and a location for performances to take placeduring the Biennial. Each of the objects functioned as an individual unit that the performers could also manipulate to form a stage.
Since receiving his Grants to Artists award, Kersels has had solo exhibitions at Deitch Projects, Kunsthalle Bern, St. Mark's Church, and ACME in Los Angeles, among others. In 2008, the Santa Monica Museum of Art presented a retrospective of his work called Heavyweight Champion. He has shown work in group exhibitions at the Whitney Museum of American Art, Centre Pompidou, Jean Paul Getty Museum, Museum Tinguely, Massachussetts Museum of Contemporary Art, Swiss Institute Contemporary Art, David Zwirner Gallery, Melbourne International Biennial, Independent Curators International, Renwick Gallery, the Museum of Contemporary Art, Los Angeles, and the University of California, Los Angeles Hammer Museum.
Subsequent to his 1999 Grants to Artists award, Kersels received The Fellows of Contemporary Art Artist's Fellowship (2008), a John Simon Guggenheim Memorial Foundation Fellowship (2008), and a Joan Mitchell Foundation Painters and Sculptors Grant (2012).
Kersels attended the University of California, Los Angeles, where he received a B.A. in 1984 and an M.F.A. in 1995. From 1999 to 2012 Kersels was a faculty member and Co-Director of the Art Program at the California Institute of the Arts, until he became Associate Professor and Director of Graduate Studies in Sculpture at the Yale School of Art.