Mary Jane Leach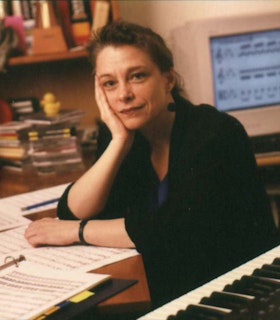 Artist Statement
My work has always been concerned with exploring sound phenomena. Initially this was done in rather direct, almost linear, ways, writing pieces for multiples of instruments, or similar instruments, that I could perform myself, taking advantage of 8-track tape machines to make the pieces, working very carefully with the specific sound properties of each instrument I was writing for, qualities that change from instrument to instrument. Two developments that helped me to expand my approach were working with vocal ensembles that could perform my multi-track vocal works, and using the computer to write music. Using the vocal groups freed up the music, releasing it from the constraints of click tracks and the rigidity that resulted from making pieces on tape, opening up the sound of the pieces. By using the computer, I was able to start writing for instruments that I didn't play. Midi playback enabled me to hear the resulting sound phenomena of various instruments. Not only did this allow me to write for instruments that I didn't play, but it allowed me to write for combinations of instruments.
- 2014
Biography
Mary Jane Leach is a composer and performer whose work whose work reveals an interest in the physicality of sound, its acoustic properties and how they interact with space. In many of her works Leach creates an otherworldly sound environment using difference, combination, and interference tones; these are tones not actually sounded by the performers, but acoustic phenomena arising from Leach's manipulation of intonation and timbral qualities.
Leach's work has been performed at venues including La MaMa E.T.C., Brooklyn College, Bucknell University, Théâtre Passe Muraille and Harbourfront in Toronto, Bang on a Can Festival, Charles Ives Center, Sound of Stockholm Festival, Roulette, and Galerie Schüppenhauer in Köln. Her works have been performed by many eminent soloists and chamber ensembles, most recently in Europe by Manuel Zurria, Emanuele Arciulli, and the Orchestra Sinfonica di Lecce; György Lakatos and Trio Lignum in Hungary; the Flemish Radio Choir, La Gioia, the London Concord Singers; and Vox Feminae (Switzerland).
Several of her works are published by C.F. Peters. Writing about her work has appeared in several books: American Music in the Twentieth Century by Kyle Gann (1997), The New Generation of Mystery/Kunstler des XXI. Jahrhunderts by Maria De Alvear (2000), La musica minimalista by Paolo Coteni and Giovanni Antognozzi (2000), Het Tweede Thema of de Verwaarloosde Geschiedenis van de Componerende Vrouw by Simonne Claeys (Belgium, 2002), and Conversations with American Women Composers by Jennifer Kelly (2013). Her writing has appeared in Arcana VI (2012) edited by John Zorn, as well as the Albany Times Union, for which she writes regularly about music and theater.
Subsequent to her 1995 Grants to Artists award, Leach received a 1996 grant from the Flagler Cary Charitable Trust, and grants from the Danish Arts Council and the American Composers Forum. Leach received a 1995 National Endowment for the Arts Composers Fellowship, a 2002 Miriam Gideon Prize in Composition from the International Alliance for Women in Music, a 2002 New York Foundation for the Arts Artists Fellowship, and a 2005 National Endowment for the Arts Commission. Previous to receiving her FCPA grant, Leach received grants from the Mary Flagler Cary Charitable Trust in 1993 and in 1995.
Recordings of her work are on the New World, XI, Wave/Eva, Lovely Music, Capstone, Innova, and Aerial compact disc labels.