Mary Oslund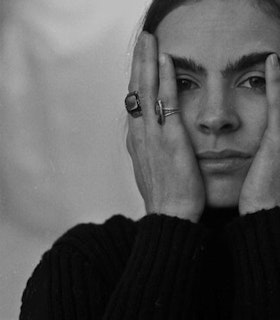 I can easily say that being recognized by your Foundation gave me insight and perspective on my work to date, as well as a renewed vigor and energy for current and future endeavors.
- Mary Oslund, February 14, 1999
Artist Statement
I make dances from a keen interest in the body and movement, the richness of work with artists in other forms, the breadth of possibility within choreographic design and statement. I want to create work that is at once complex, captivating, satisfying for the performers and contributing artists, and mysterious.
- 2014
Biography
Mary Oslund was a dance artist, choreographer, artistic director, and teacher. Throughout her career, she advanced the discipline of contemporary dance through the exploration and creation of new work with choreography marked by physicality, movement invention, specialized group work, and a unique approach to partnering. Oslund's choreography evolves from physical and intellectual research and exploration, building from elemental movement invention towards an orchestration of the individual performer within ensemble choreography. From an interactive studio process involving the dancers and collaborating artists, the choreography that emerges is urban and contemporary, rigorous, and singular.
One of the strongest influences for Oslund's career and vision as a dancer and choreographer came through her association with Merce Cunningham and one of his earliest company members, Viola Farber. Oslund's work reflects this influence in its interest in intricate detail and form, the architecture of choreography, the collaboration and co-creation of dance with artists in a diversity of forms, indeterminacy, and construction methodology that unearths structure and order from sources ulterior to the individual intellect.
Dialogue and partnerships with other artists and forms were pivotal to Oslund's career and working process. Her choreography often drew material from literature, film, theater, and the visual arts, and frequently original music was composed specifically for the work.
Subsequent to Oslund's 1997 Grants to Artists award, she received White Bird Dance's 2014 Lifetime Achievement Award with Tere Mathern. Oslund's work, and that of her company Oslund + Co/Dance, was supported by the New England Foundation for the Arts, The National Endowment for the Arts, On The Boards, Art on the Edge, The Portland Art Museum, the Portland Institute for Contemporary Art, White Bird, the Oregon Arts Commission, the Regional Arts and Culture Council, and Lane Arts Council.
Oslund served on the faculties of Reed College, Lewis and Clark College, the University of Oregon, and Portland State University. Oslund was also a contributor to the Portland Dance History Project at PSU. She founded and directed Dance Works Studio in Eugene, Oregon and co-founded and co-directed Conduit studio in Portland, both of which provided a home base for her company, Oslund+Co/Dance. Oslund received a B.F.A. and a M.A. in Modern Dance from Ohio State University.