Maryanne Amacher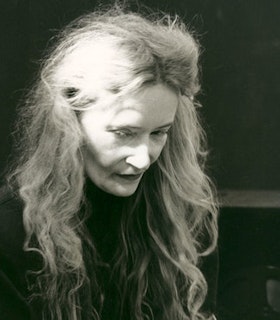 Artist Statement
In a departure from frontally staged concert and theater productions, an entire building or series of rooms provides a stage for the sonic and visual sets of my installations. In Music for Sound Joined-Rooms, and Mini-Sound Series I use the architectural features of a building to customize sound, visual, and spatial elements, creating multi-dimensional environment-oriented experiences, anticipating virtual immersion environments. As the audience moves through new scenes being created by the "Sound Characters," they navigate the expanded dimensions of a sonic world that is staged throughout the architectural site, an entire building, or its rooms. The idea is to create an atmosphere that gives the drama of being inside a cinematic close-up, a form of "sonic theater" in which architecture magnifies the sensorial presence of experience. Rooms, walls, and corridors that sing. I produce these works in location-based installations/performances that are built from "structure borne" sound (sound propagated through walls, floors, rooms, corridors), which acousticians distinguish from the "airborne" sound distributed by loudspeakers only. Creating the detailed sound design is very much like scripting a sonic choreography. In some episodes sound sweeps through the rooms; in others, chords and tonalities are intricately joined between the rooms; in still others, a particular sound shape is emphasized to animate sonic imaging of a distant room. The rooms themselves become speakers producing sound which is felt throughout the body as well as heard.
- 1998
Biography
Maryanne Amacher was an experimental sound artist who composed music and created site-specific sound installations. Early in her career she played music on multiple tape machines and mixed them live. She was interested in the experience and perception of sounds in particular spaces.
In 1967 Amacher began her ongoing, twenty-two-site series City-Links. In this piece she transmitted sounds from various locations within and among cities through telephone lines and mixed them together. Amacher toured the United States with the group Musica Elettronica Viva during 1970. In 1980, Amacher occupied the conductor Dennis Russell Davies' Victorian home in Minneapolis to create a sound installation series, Music for Sound-Joined Rooms for a New Music America event. After receiving her Grants to Artists award from FCA in 1998, Amacher released Sound Characters (Making the Third Ear) (1999) on John Zorn's label Tzadik, and contributed to Zorn's collection of critical writings Arcana III: Musicians on Music (2000). Her work has been presented at the Walker Art Center, The Kitchen, and at the Museum of Contemporary Art in Chicago.
Amacher often collaborated with Merce Cunningham and John Cage. She composed the music for Cunningham's Torse (1976) and several other evening-length works. She produced a storm soundtrack for Cage's Lecture on the Weather (1976), and a sound environment piece titled Close Up to accompany his Empty Words (1978). Amacher and experimental guitarist Thurston Moore collaborated on a project that is captured in the thirty-minute film day trip maryanne (2005).
After receiving her 1998 FCPA grant, Amacher was awarded the Prix Ars Electronica in the Digital Music category for her project TEO! A sonic sculpture! in 2005. Prior to her Grants to Artists award, she was a fellow at the Massachusetts Institute of Technology's Center for Advanced Visual Studies during the 1970s. She also completed a fellowship at Harvard University and was in residence at the University of Buffalo, New York.
Amacher studied piano at the Philadelphia Conservatory of Music and completed her undergraduate and graduate studies at the University of Pennsylvania, where she studied composition with George Rochberg. Amacher studied privately with Karlheinz Stockhausen and was the first Rosekrans Artist in Residence at Mills College in 1993. She was on the faculty of Bard College in the department of Music/Sound, where she taught electronic music until the time of her death.