The Mary S. Byrd Gallery of Art at
Augusta University: Bojana Ginn exhibition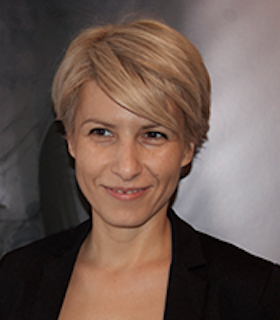 Artist Biography
Bojana Ginn was born in the former Yugoslavia in 1974 and currently lives in Atlanta.
Prior to pursuing an artistic career, Ginn received her M.D. from the University of Belgrade in 2001. After moving to the United States in 2002 to take a position in Emory University's Biology Department, she began to create art in her free time. Ginn eventually left the world of scientific academia, completing her M.F.A. in sculpture at the Savanah College of Art and Design, Atlanta in 2013.
Ginn's interdisciplinary practice combines natural materials and contemporary technology to create works that explore the possibilities of line, time, and space. Comprised of natural fibers and new media, her work seeks to connect the technological and natural worlds. Tied to her study of transhumanism, Ginn's installations create a "soft-space" for discovering the intimacies between humans and technology.
Ginn has exhibited her work extensively throughout Georgia, and has installed several interactive multi-media public art works in and around the city of Atlanta.
About the Exhibition
On September 19, 2019, the Mary S. Byrd Gallery of Art at Augusta University opened a solo exhibition of new multi-media works by sculptor Bojana Ginn, curated by Gallery Director Shannon Morris.
Unlike previous displays of her work, this exhibition allows for Ginn's installations to fully encompass the viewer. Clouds of wool imbued with LED lights redefine how the viewer experiences the space around them. Activating the space through their presence, the viewer's interactions both with the work and with each other comment on methods of open communication facilitated by web-based media. Through this exhibition, the Mary S. Byrd Gallery of Art intends to bridge the University's departments of science and technology with the arts.
The Mary S. Byrd Gallery of Art, founded in 2010, is located on the campus of Augusta University in Augusta, GA, and is named in honor of its living patron and supporter, Mary S. Byrd. Through exhibitions of emerging, mid-career, and established contemporary artists, the Mary S. Byrd Gallery of Art serves as a laboratory for student learning. In her role as the first full-time Gallery Director, Shannon Morris has worked with the University to make the Mary S. Byrd Gallery of Art a destination for contemporary art outside of a traditional metropolitan area.