Matana Roberts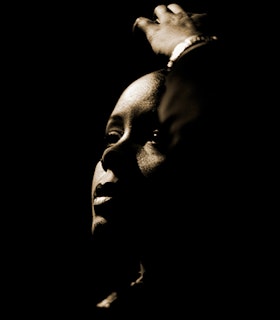 ... I was able to use the award to get off my usual auto pilot, and really think about what I have accomplished so far, what the issues have been with that, good and bad, and how I can better strategize, build on its most positive aspects, and still thrive as a New York City artist in the 21st century!... It really helped me, and I feel many years from now it will still shine as the beacon it was when I received it.
- Matana Roberts, December 15, 2013
Artist Statement
I am an improviser, composer, variegated lineage-ed sound conceptualist performer who uses the alto saxophone and its placement of acceptance and contradiction within the American jazz tradition, as the genesis point of entrance for the structure of my broad palette of sound work and experiential artistic inquiry. I am committed to creative work that is deeply experiential in nature, yet broadly performative, inquisitive, improvisatory, yet unapologetically contradictory, and raw in scope and rendering. I am dedicated to work that dares speak of memory, challenges social norms, critically investigating all possibility, and as a derivative, internalizing a new understanding of the worlds I see and the worlds I wish to see better.
- December 2012
Biography
Matana Roberts is a sound experimentalist, musician, and alto saxophonist who works in many performance and sound mediums including improvisation, dance, poetry, and theater. Their music aims to expose the mystical roots and the intuitive spirit raising traditions of American creative expression.
Selected works include Coin, Coin: Gens De Couleur Libre (CST Records, 2011), Live in London (CCI Records, 2010), and The Chicago Project (CCI Records, 2008). Selected performances of their work include Ritual and Rebellion (2008), a collaboration with Nicole Mitchell, Craig Taborn, and Chad Taylor at The Kitchen; Studio Sound (2010) at The Studio Museum of Harlem; the premiere of Epilogue (2012) at the Rhiz in Vienna; and the premiere of Exodus (2012) at Roulette, Brooklyn.
After their FCA support, Roberts was a Copeland Fellow at Amherst College, Massachusetts (2013). Prior to her 2013 Grants to Artists, Roberts was a Make-Jazz Fellow at the 18th Street Arts Center, Santa Monica (2011). Roberts also held residencies at and ISSUE Project Room in New York (2009) and Roulette (2012). They received a B.A. from DePaul University in 1997, and an M.A. from New England Conservatory of Music in 2001.