Matt Savitsky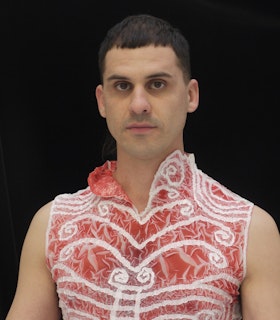 Artist Statement
I am interested in the spontaneous observations that arise during the messy rehearsal phase of creative practice and have worked to develop aesthetic frameworks which organize and present that side of production. Photo-based documentation plays an increasingly important role in this process.
The once perfunctory question of how to faithfully document the rapidly unfolding and invisible material of my performances is now central to how I design their image structure and the theatrical sets where they happen. These performance images typically have an inner frame or portal: an aperture, glory hole, reflection, window, or mouth. This pictorial device delineates a physical space from within the image, prompting the deconstruction of the camera's fixed viewpoint into a spatial relationship defined by the positions of subject and object.
I build out performance documentation as a charged, pictorial image-space rather than assuming the same "neutral," unpremeditated gaze taken by early, mostly white, conceptual performance artists of the 1960s and 1970s. I present all elements in installations where the photo or video image is positioned as both a document of the artistic gesture and the work of art.
In confronting this history in my work, I explore the boundary between being surveilled and being seen.  
- December 2021
Biography
Matt Savitsky is an interdisciplinary artist whose often collaborative work combines performance, video, and sculptural installations.
Negotiating the physical, social, and ethical dimensions of relationships with collaborators is central to the staging and development of Savitsky's projects. In group performances, he uses cameras and bodies to ask what it means to record the present moment. Although he uses many mediums, the central artistic act is that of collectively directing these creative sessions. Savitsky incorporates material play, theatrical props, and modular film sets that become important tools by which the group or partnership can express itself. He has explored these types of subject-object relations in projects involving BDSM roleplay, family members, performance collectives, and the queer arts community. In Mid-City Angels  (2017), for example, he recontextualized poses from Greco-Roman sculptures within the tradition of queer performance, inviting Los Angeles-based collaborators to join him in remixing the Classical figure-support convention. In five hour-long, improvised sessions, Savitsky and his collaborators made and unmade sculptural forms, opening a dialogue about the relational and ongoing nature of identity construction.
Savitsky was a member of The Family Room collective, an interdisciplinary group whose other members included Todd Moellenberg and Sylke Rene Meyer. They have created and shown work at Northridge Art Galleries, Los Angeles, CA (2019); California State University, Los Angeles, CA (2019); and Tiger Strikes Asteroid, Los Angeles, CA (2019).
Savitsky has had solo exhibitions at Cloaca Projects, San Francisco, CA (2019) and Shoot the Lobster, Los Angeles, CA (2017), among others. He has participated in group exhibitions at the Orange County Museum of Art, Santa Ana, CA (2019); The Institute of Contemporary Art at the University of Pennsylvania, Philadelphia, PA (2018); and Torrance Art Museum, Torrance, CA (2016). His video works have been screened in the Migrating Forms Film Festival, New York, NY (2010); at Galeria Alternativa Once, Monterrey, Mexico (2014); and at Universidad del Pais Vasco Bilbao, Leioa, Spain (2014). Savitsky has performed at the Orange County Museum of Art, Santa Ana, CA (2019); The Institute of Contemporary Art at the University of Pennsylvania, Philadelphia, PA (2018); New Art Dealers Alliance, New York, NY (2017); and Los Angeles Contemporary Exhibitions, Los Angeles, CA (2016).
Savitsky has attended residencies hosted by Kembra Pfahler's Incarnata Social Club, Reno, NV (2016) and by La Pocha Nostra at Highways, Los Angeles, CA (2016) and Universidad Autónoma de Baja California, Tijuana, Mexico (2016).
He received a B.F.A. from The Cooper Union for the Advancement of Science and Art in 2005 and an M.F.A. from University of California, San Diego. He lectures on Film & Video and Photographic Practices at California State University, Fullerton and California State University, Long Beach.