Maureen Owen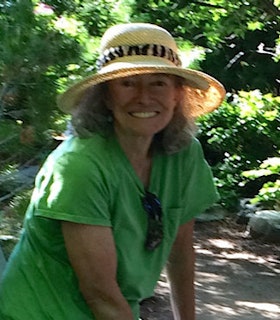 Invaluable amounts of time have been afforded me by this grant. I have been able to do so much more in poetics, so much more with my own work this last year than ever would have been possible if I had not received the funds. The grant has transformed my life.
- Maureen Owen, January 1999
Artist Statement
It is almost like magic to me. There are certain things you can do in poetry that are truly magic, and I don't mean that in terms of an illusion. It is just like you can do something magical, like a magical act. You can't devise this method of magic, it just has to happen.
How do you stay true to your work and the truth you see in your life? If you try to write a poem in the more traditional way on one subject, you're really not being truthful. You're not reflecting the true reality of what is going on "right now." And I've always loved collage. When I was younger and making art, I made a lot of collages. I like the surprise of what happens when you put different images together.
I want to approximate a speaking voice and I want in that speaking voice a kind of absolute silence to take place where I leave a long space between the words. Things are very visual for me. The spacing is a visual component of the page. A word hung out in pure space is so gorgeous to me. I want to create that pause, that silence between words, to create space in the language on the page. It is as much for the eye as for the ear.
I want an absolute silence to fall where I have left a long space between words, and I want the reader to lose themselves for a time in that space, in the black precise shape of the letters, in the texture and form of the word. And I like when I leave a lot of space. For me, it's like when a stone hits bamboo and that resonating sound. That is kind of where the music in the line is to me and that's where the lyric starts to unfold for me. I started out painting when I was younger and later I went totally into writing poetry and so the look of the poem on the page, the placement of the words, and the spacing is all of major importance to me. My poem on the page is, for me, a painting.
- 2014
Biography
Maureen Owen is a poet, editor, and biographer. Her work often deals with feminism and explores themes of American life.
Owen is the author of eleven books of poetry, including Edges of Water (2013). Among her other publications are The No-Travels Journal (1975), a brass choir approaches the burial ground (1977), Zombie Notes (1985), Imaginary Income (1992), and Untapped Maps (1993). A special edition of her FCPA-supported title Erosion's Pull, in collaboration with visual artist Yvonne Jacquette, was published in 2004 featuring a selection of poems accompanied by prints made from Jacquette's original pastel drawings of aerial landscapes. Her work has been included in several anthologies including Moving Borders: Three Decades of Innovative Writing By Women (2007).
Beginning in 1970, Owen published nineteen issues of her magazine, Telephone, and Telephone Books, her small press, has published over 30 titles. With her 1998 Grants to Artists, Owen revived Telephone Books and published works by Elio Schneeman and Janet Hamil.
Following her 1998 FCPA support, Owen's collection American Rush: Selected Poems (1998) was a finalist for the Los Angeles Times Book Prize (1999), and her title Erosion's Pull (2004) was a finalist for the Colorado Book Award and the Balcones Poetry Prize (2010); in 2011, Owen received a grant from the Fund for Poetry. She has published work in The Denver Quarterly, Vanitas Magazine, New American Writing, and Bombay Gin.
Previous to her FCPA grant, Owen's received grants from the National Endowment for the Arts Poetry Fellowship (1979-80), and her work AE (Amelia Earhart) (1984), was a recipient of the Before Columbus American Book Award (1985).
Owen received a B.A. from San Francisco State University. She has taught courses in creative writing and research at the Edinboro University, Pennsylvania, and has led workshops at Swarthmore College, and St. Joseph's College in Connecticut. She teaches at Naropa University in the low-residency M.F.A. Creative Writing Program, and serves as editor-in-chief of Naropa's online zine not enough night. She was on the staff, and later served on the Board of The Poetry Project at St. Mark's Church.