mayfield brooks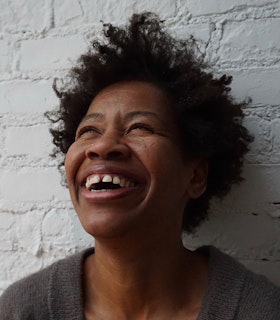 Receiving the Foundation for Contemporary Arts Merce Cunningham Award has been a game changer in my career as an artist and I cannot begin to express how important FCA's support has been for my creative development. I never fully believed that life as an artist would be possible or even sustainable, but the community of artists who support FCA have a keen and indestructible faith in the power of art and for that I am deeply grateful. I am a believer!
- mayfield brooks, December 15, 2021
Artist Statement
My approach to composing movement is a process of creating versatile, improvised choreographic structures. Architects that have to deal with earthquake-prone terrain have to imagine structures that move with the earth, and this is similar to how I choreograph with improvisation. I call this process Improvising While Black, or IWB. I see my movement practice mirrored in the archive of ancestors lost to the Atlantic Ocean's Middle Passage and Black lives lost due to anti-Black violence. My story is their story and Improvising While Black is about honoring stories that cannot be told. The seed for IWB sprouted out of my own personal experience of being racially profiled when driving while Black in San Francisco, California. After this experience, I committed to practices of dance improvisation that explore disorientation, dissent, disorder, wildness, rest, and repair work—to claim reparations as a creative process and methodological approach to movement. Over the years my day job as an urban farmer gave me additional language to describe repair work as a choreographic process of dancing and farming. I call this process de-composing dance and choreographing breath. Like an ecology, Improvising While Black continues to evolve as a process that moves in relation to other organisms, environments, and events in order to conjure ancestral healing with human and non-human ancestors. Everything that I create, choreograph, and envision is under its umbrella.
- December 2020
Biography
mayfield brooks is a movement-based performance artist, vocalist, urban farmer, and writer. brooks teaches and performs practices that arise from Improvising While Black (IWB), their interdisciplinary dance project which explores the decomposed matter of Black life and engages in dance improvisation, disorientation, dissent, and ancestral healing.
brooks performed Improvising While Black (IWB): Dancing In The Hold at Gibney Agnes Varis Performing Arts Center (2018) as part of the dance series Gathering Place: Black Queer Landing. Dancing In The Hold included an interdisciplinary workshop for Black artists, two evening-length shows, and a six-hour movement installation with a procession to the African Burial Ground in downtown Manhattan, NY.
In 2020, their multi-year, interdisciplinary solo performance project Letters To Marsha with Viewing Hours (a diptych) was presented in Brooklyn, NY by JACK in partnership with Mount Tremper Arts. In Viewing Hours, brooks lay in repose under 40 pounds of compost asking audiences to witness the weight of live decomposing matter on brooks's body, and to consider reparations. Emerging from the compost they performed Letters To Marsha, a dance based on three years of brooks's written love notes to legendary Black transgender activist Marsha P. Johnson. Letters To Marsha with Viewing Hours (a diptych) was supported by a Foundation for Contemporary Arts Emergency Grant, a National Endowment for the Arts Grant, and the Shelley & Donald Rubin Foundation.
brooks's other performances include: Viewing Hours: A Discourse for dance decomposition and choreographies of breath at Badischer Kunstverein, Karlsruhe, Germany (2020); Entropy's Garden and Viewing Hours at The Kitchen, New York, NY (2019); iwb: glossolalia in the flesh at Annie May Swift Hall, Evanston, IL (2016); and Improvising While Black (IWB): The Wreck Part 2 at University of California, Davis, CA (2014). They are the recipient of residencies at Abrons Arts Center (2020), Center for Performance Research (2020), Kaaitheater (2020), Works on Water (2020/2018), and Movement Research (2017). As a performer, brooks has collaborated with Jaamil Olawale Kosoko, Meg Stuart, Moriah Evans, Mary Pearson, Karen Nelson, Reverend Billy and The Stop Shopping Choir, Jo Kreiter, Keith Hennessy, and Seth Eisen.
They received a B.A. from Trinity College, an M.A. in Performance Studies from Northwestern University, and an M.F.A. from the University of California, Davis. They also studied contemporary dance at The School for New Dance and somatic practices at Moving on Center School for Participatory Arts and Somatic Research. brooks is the editor-in-chief of the Movement Research Performance Journal and is part of the Movement Research teaching faculty.