Melanie Maar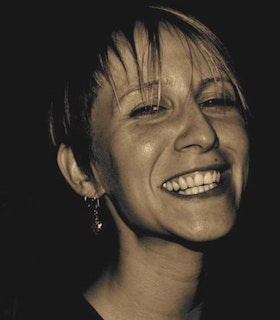 The grant was a grand actual and symbolic gift at a moment in my career where I needed support, artistic clarification and an opening of my perspective in how to go on as a dance artist. I am deeply grateful for the honor to be included in this particular lineage of giving from artists to artists. Also for the unrestrictedness of the funds, that allowed me to take full responsibility in choosing what to spend it on and that highlighted my needs and priorities as an artist. The first five months of the year I spent a large portion of the award... on my current projects in process—Dämmerung and 9 Drawings. For the first time I paid myself administrative and choreographer's fees. I also traveled to several places to teach free workshops to local dance students. It was a crucial time for me that influenced my perspective on my life/art continuum in exchange with artists living in different economic/political/cultural systems.
- Melanie Maar, December 5, 2015
Artist Statement
I am deeply honored to be part of a lineage of experimenting artists in New York. My interest in questioning known forms emerged by watching my father. His longtime movement disorder appeared as a particular aesthetic in the context of the professional dance home I grew up in. Ever since, I have searched the relationships between psyche, soma, and performance dance.
Creating performances provides a container for me to process how I relate to the world. Dance inspires how I pay attention. Rather than presenting a meaning or idea, I am interested in inspiring meaning that comes into existence through each audience members' perception. In performance, unseen realities can be recognized in an ambiguous, yet crafted, environment where presence is key. It's the contextualization of a phenomenological reality experienced sensually through our bodies. A very personal reality, I sense, could also be experienced collectively.
My next piece starts with a vision of space, a costume, sound or light… letting different aspects of culture, sexuality, and nature to morph, move, and become choreography. Each performer's way of being is essential to that work. The improvisational spirit present in the performances feeds the hungry dance with uninvited risks and my failures to control.
- December 2014
Biography
Melanie Maar is a dance artist and teacher whose work is based in improvisation. Spontaneous movement, and the cognitive aspects of movement and aesthetics motivate her to study and create visual sensations and to question the nature and function of performance.
Maar's work has been performed in the theater as well as in music venues, galleries, and loft spaces. Her work has been presented by The Kitchen, Danspace Project, Dance Theater Workshop, Movement Research at Judson Church, The Chocolate Factory, ISSUE Project Room, The Stone, ImPulsTanz Festival Vienna, the Alameda Museum Mexico City, and Tanzfabrik Berlin. As a dancer with an interest in experimental performance, Maar has worked with New York choreographers Luciana Achugar, RoseAnne Spradlin, Walter Dundervill, Daria Fain, and Luis Lara Malvacias, among others. Maar is a frequent collaborator with sound artist Kenta Nagai and is a member of an improvisational performance collective with Rachel Bernsen, Taylor Ho Bynum, and Abraham Gomez-Delgado.
With the support of her 2015 FCA grant, Maar worked on two new pieces: Dammerung, which was shown at the Austrian Cultural Forum New York and the National Autonomous University of Mexico, and 9 Drawings, a collaboration with Edith Greutmann, which was shown at the Brooklyn Studios for Dance. Her works created before receiving her 2015 Grants to Artists award include her solo Off and On (2005), which was inspired by her father's Parkinson's disease. A two-year tour of the work to movement disorder conferences sparked further studies in cognitive science and psychosomatic phenomena. In Spaces and Bones (2011) she explores the mystical and the common to create a context where questions about the revealing nature of live performance can live.
Prior to receiving her 2015 Grants to Artists award, Maar received Yellow House Production Grants (2008-2013); she held residencies at Dance and Process at The Kitchen (2006); Movement Research (2006-2007); Dance Theater Workshop (2009); Kaatsbaan International Dance Center, UpStream Residency (2009); ImPlusTanz Vienna International Dance Festival (2010-2013); and Laboratorio: Condensatión, Mexico City (2014).
She received her early training in ballet, flamenco, and modern dance at her mother's dance studio Tanzstudio Maar in Vienna. Beginning in 1996, Maar continued her dance studies at the Trisha Brown School and Movement Research. She has also spent a number of years studying somatic practices, improvisation, performance theory, psychosomatic phenomena, cognitive science, and psychology.
Maar served as co-curator of the Movement Research Festival in 2010, and the Moving Sounds Festival for the Austrian Cultural Forum in 2013. From 2009 to 2014 she ran a live-work space in Brooklyn that hosted performances, classes, workshops, and gatherings. Since 2007 she has been teaching Qi Gong, senior movement classes, and workshops on performance making. She is a member of the Artist Advisory Council of Movement Research.