Melinda Ring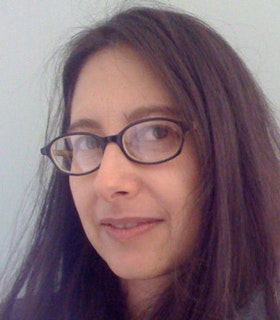 The first thing I put the money toward was debt. I was able to pay off the credit card debt that I had accumulated over the last few years… Then I felt I owed something to the three dancers who have been working with me for the last six years. They each received a $1,000 bonus and their rehearsal pay was increased to $15 an hour. This isn't a great rate, but it is the highest amount I have been able to pay so far... The intangible, positive, psychological effects of receiving this grant are no little thing. They are almost equal to all that the money allowed me to accomplish. I feel stronger, more able to standup for my work. This will sound weird, but I feel less lonely.
- Melinda Ring, January 10, 2017
Artist Statement
I'm engaged in an on-going experiment, examining choreographic conventions, stripping away various things that usually support a performance. Recent works have been made through a highly collaborative process with the performers, involving destabilization, defamiliarization, de-authoring, and transmission. In shaping material obtained through improvisation, my role is delicate. I actively work to not "ruin" things by smoothing over all the rough moments, watching for "happy accidents"—moments that at first might seem somehow off, but after I consider them for awhile, become what I call "good bad." The dancers perform the work always connected—dancing together, but never in unison. They frequently can't see each other, but cue through sound and energy—a combination of telepathy and memory. While my agenda is to resist conventional virtuosity, the complexity of my recent work is demanding to perform. I am pushing the dancers and myself outside of our comfort zone to a place that is both precarious and free.
Having allowed myself the freedom to move between mediums, as visual artists often do, I follow threads within the dance-making process towards the creation of body-based pieces in other forms—including installation, performance, video, and drawing—towards generating a body of related work.
- December 2015
Biography
Melinda Ring creates dances, performance pieces, videos, and installations. In 2004 she founded the performance company Special Projects. Her dance- and movement-based projects often incorporate visual arts practices, including video, sculpture, and installation.
Ring's 2016 Grants to Artists award supported the development of two new works, A dark cloud, walks into a room and Shiny Angels in Angular Time (2016). Prior to her FCA support, major premieres of her works included Weather Condition Dances (Glare, Long Rain, Dense Fog), at Highways Performance Space, Santa Monica (1997); Re-establishing the Ground Plane, at Los Angeles Municipal Art Gallery, Los Angeles (1997); Impossible Dance #2 (still life), at Bennington College, Bennington, VT (1999); Huh?, at Frances Young Tang Teaching Museum and Art Gallery at Skidmore College, Saratoga Springs, NY (2007); Hmmm…, at The Kitchen, New York (2009); X, at Danspace Project, New York (2010); and Forgetful Snow at The Kitchen, New York and The Box, Los Angeles (2014). Forgetful Snow was also documented by Contact Quarterly in Chapbook 6. Ring's work has also been performed at Headlands Center for the Arts, Sausalito, CA; the Santa Monica Museum of Art, Santa Monica; and Mount Tremper Arts, Phoenicia, NY.
Ring's collaborations include choreography for Martin Kersels' sculptural installations at the Whitney Museum of American Art, New York; MASS MoCA, North Adams, MA; Santa Monica Museum of Art, Santa Monica; and The Tang Teaching Museum at Skidmore College, Saratoga Springs, NY; performing in Paul McCarthy's video projects; and for the birds (2009), an installation/performance where Ring and Jennifer Nelson lived in The Box in Los Angeles for twenty-one days with twenty-one pigeons making things in various mediums that were literally "for the birds."
Ring has been an Artist-in-Residence at Headlands Center for the Arts (1999, 2012), Movement Research (2005, 2015-2016), Lower Manhattan Cultural Council (2007, 2012), Mount Tremper Arts (2012), Gibney Dance Center (2013), and Yaddo (2014). She has been commissioned by Los Angeles Contemporary Exhibitions (1989), Los Angeles Municipal Art Gallery (1994), The Frances Young Tang Teaching Museum and Art Gallery at Skidmore College (2007), The Kitchen (2008, 2014), Danspace Project (2012), and Headlands Center for the Arts (2012).
Support for Ring's work has been provided by three Artist In The Community Grants from the City of Los Angeles, Cultural Affairs Department (1994, 1996, 1998), Meet the Composer (1995, 1998), the California Arts Council Performing Arts Touring and Presenting Program (1996-1998), Audrey Skirball Kenis Theater Projects (1997), a City of Los Angeles (COLA) Individual Artist Fellowship Award (1999), a Puffin Foundation Grant (2007), a Lower Manhattan Cultural Council Manhattan Community Arts Fund Grant (2009), a New York Foundation for the Arts, BUILD Stability Grant (2010), the Gerald Oppenheimer Family Foundation (2010, 2011), two FCA Emergency Grants (2010, 2014), and a Chora Council Grant from the Metabolic Studio, a project of the Annenberg Foundation (2012).
Ring earned a B.A. from the University of California, Los Angeles in 1982 and an M.F.A. from Bennington College in 2001. Ring is a critic in sculpture at Yale University School of Art and in Spring 2016 she will be a visiting instructor in Dance at the University of California, Los Angeles through the Movement Research exchange program. In 2011, Ring developed programing as an artist-curator for Danspace Project's PLATFORM.