Michael Gizzi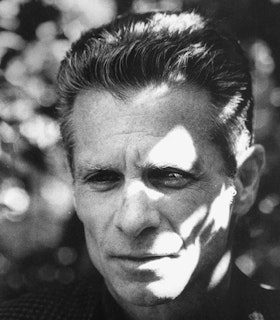 Artist Statement
I first read Miniver Cheevy by Edwin Arlington Robinson when I was eleven years old, and I have been writing poetry ever since. Though I grew up to be an enthusiast/advocate of the experimental in art, it would be wrong of me to suggest that I lost the naïveté of my eleven-year old self in the process. Indeed, since that formative encounter with Robinson's misfit dreamer, I have pursued the radical possibility that anything is possible, if one is only given the opportunity to continue.
In addition to poetry, my chief inspiration has been music—classical and jazz. As a writer, I have made use of musical techniques in my work, along with some from the plastic arts: collaboration, improvisation, juxtaposition, etc. I have faith in the human spirit, as well as in the cosmic joke that suggests we are merely parsecs of light fortunate enough to be passing through some vastness of space, at this, our moment.
- December 2009
Biography
Michael Gizzi was a poet, editor, and the author of numerous books of poetry and writings including Species of Intoxication (1983), Continental Harmony (1991), No Both (1997), My Terza Rima (2001), and New Depths of Deadpan (2009). Gizzi worked as an editor at a number of small publishers as well as an editor for writers such as Bernadette Mayer, Jim Brodey, Merrill GilFillan, and Trevor Winkfield.
Prior to his 2010 Grants to Artists, Gizzi received a Kim Ann Arstark Memorial Prize in Poetry (1975), an Academy of American Poets Prize at Brown University (1978), a Fund for Poetry Grant (1995), and two Gertrude Stein Awards for Innovative Writing (1996, 2007).
Gizzi received both his B.A. (1976) and M.A. (1978) from Brown University. He passed away in Providence, Rhode Island at the age of 61. He taught English and Creative Writing at Lenox High School, and was an adjunct faculty member and visiting professor at Roger Williams University and Brown University.