Michael Gordon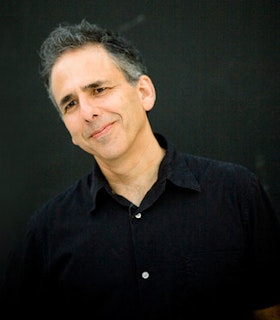 Artist Statement
I write music to challenge and entertain myself. I imagine things that either don't exist or that I can't figure out, and then try to do them. I add dimensionality to the concert experience by collaborating with visual and theater artists. One of my recent works includes Decasia, in which I de-tuned an entire Symphony Orchestra to sound like a piano that has fallen out of someone's apartment window. The orchestra sits on a three-tiered pyramid with the audience inside, surrounded by Bill Morrison's celluloid distressed film and spectacles by Ridge Theater.
- 2003
Biography
Over the past 25 years, Michael Gordon has produced a diverse body of work, including large-scale pieces for ensembles, orchestral commissions, and works conceived specifically for the recording studio. It has been said that Gordon's music defies categorization and is introspective, yet direct.t
Sunshine of your Love (1999) was written for over 100 instruments divided into four microtonally tuned groups. Gordon's interest in exploring various sound textures has led him to create chamber works that distort traditional classical instruments with electronic effects and guitar pedals, including Industry (1992) for cellist Maya Beiser and Potassium (2000) for the Kronos Quartet.
The composer is also a frequent collaborator with artists in other media including filmmaker Bill Morrison and Ridge Theater. Together they have produced films including Decasia (2001), Gotham (2004), and Dystopia (2007). El Sol Caliente, the third film in a series about cities, including Dystopia and Gotham, premiered at New World Symphony in 2015. With his FCPA Grant, Gordon composed Gotham for orchestra and Light is Calling (2004) for amplified violin and audio playback, both of which were included in Morrison's films of the same name. His works for theater and opera have been performed at REDCAT in Los Angeles and Next Wave Festival at Brooklyn Academy of Music. His work has been featured in the dance works of Pina Bausch, The Royal Ballet, The Scottish Ballet, Zürich Ballet, and Club Guy & Roni.
Gordon's Rewriting Beethoven's Seventh Symphony (2006) was commissioned by the 2006 Beethoven Festival in Bonn and premiered by Jonathon Nott and the Bamberger Symphony. Gordon's orchestral works, such as Beijing Harmony (2013), explore the sonic potential of the traditional orchestra. The composition was commissioned by the Beijing National Center for the Performance Arts, a work that projects the perpetual sound of the orchestra to form a sonic architecture.
Gordon has received commissions from Lincoln Center, Carnegie Hall, the Stuttgart Ballet, the BBC Proms, the Brooklyn Academy of Music, Settembre Musica, the Holland Music Festival, the Dresden Festival and the Sydney 2000 Olympic Arts Festival, among others. His music has been performed at the Kennedy Center, Théâtre De La Ville, Barbican Centre, Oper Bonn, Kölner Philharmonie, and the Southbank Centre. Formed in 1983 as The Michael Gordon Philharmonic and renamed The Michael Gordon Band in 2000, Gordon's own ensemble performed across Europe and the United States at venues as diverse as Alice Tully Hall and the punk mecca CBGB, on the Contemporary Music Network Tour and at the Almeida Festival in London.
Subsequent to his 2002 FCPA grant, Gordon was named a John Simon Guggenheim Memorial Foundation Fellow (2009).Prior to his 2002 Grants to Artists award, Gordon had received an Obie for The Carbon Copy Building, a collaboration with composers David Lang and Julia Wolfe, cartoonist Ben Katchor, and Bob McGrath, Artistic Director of Ridge Theater (1999); and an Academy Award in Music from the American Academy of Arts and Letters (1999).
Gordon holds a B.A. from New York University and a Masters of Music from the Yale School of Music. He is co-founder and co-artistic director of New York's music collective Bang on a Can and Bang on a Can Festival, which presents new and unknown contemporary music works. His music is published by Red Poppy Music (ASCAP) and is distributed worldwide by G. Schirmer, Inc.