Michael Schumacher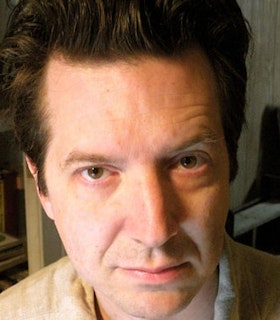 Artist Statement
I am interested in context, in defining boundaries and not crossing them. A piano piece is one thing, a sound installation another. The forms are different, the audience is different. The time, the place, it all has to be taken into account. Ultimately, we're all collaborating with whomever's participating.
- 2002
Biography
Michael J. Schumacher is a composer, performer, and installation artist based in Brooklyn.
With support from his 2001 Grants to Artists award, Schumacher focused on his ongoing installation Room Pieces, which takes various forms. Designed for living spaces, Room Pieces situates speakers throughout a room. It features vocal and piano samples that change based on computer algorithms. The sound installations have been exhibited in New York at venues and festivals including MoMA PS1, Queens Museum, Apex Art, The Kitchen, Art in General, Sculpture Center; and internationally at Museum of Contemporary Art, Lyon; CCNOA Gallery, Brussels; Haarlem, The Netherlands; The Sound Art Museum, Rome; Transmediale Festival, Berlin; Sonic City Festival, Belgium; Ostrava Music Days Festival, Prague; EMPAC, Troy, NY; and SKAN Festival, Riga, Latvia.
His work has also been heard and performed at Displaced Sounds Festival in Belgium, Baryshnikov Arts Center, Performance Space 122, The Stone, La MaMa E.T.C., Merkin Hall, and University of California San Diego. In 2007, XI Records published a DVD set of five sound installations as computer applications, playable on up to eight speakers, which may be installed on a computer to create sound environments in the home. His latest project is diNMachine, an electroacoustic rock band.
Since his 2001 FCPA grant, Schumacher has been an Artist-in-Residence at Rensselar Polytechnic Institute's iEAR program (2002), DAAD Berlin (2007), EMPAC in Troy, NY (2009-2010), and Krems in Austria (2013).Prior to his 2001 Grants to Artists award, Schumacher received fellowships from the New Jersey State Council on the Arts (1988) and New York Foundation for the Arts (1998) as well as two Meet the Composer Performance Fund Grants (1990, 1995).
He received a B.M. in Music Composition from Indiana University in 1982 and both an M.M. and D.M.A. in Composition from The Julliard School, in 1985 and 1988, respectively. He has been a guest lecturer and professor at The New School, Columbia University, Wesleyan University, University of California San Diego, Bard College, and Technical University in Berlin. Schumacher has been a Researcher-in-Residence and Adjunct Professor at New York University's Polytechnic Institute in Brooklyn since 2005. He is the founder and director of Diapason Gallery, and is the music director of the Liz Gerring Dance Company.