Michael Webster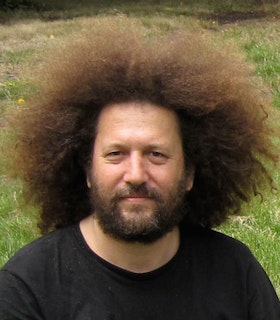 ... without this grant, without the moral support, knowing that it flowed from the regard of my peers, I might have lacked the resolve to see this work through.
- Michael Webster, January 2012
Artist Statement
I'm especially interested in music whose tempo changes fluidly, music in which fluidity becomes the ground on which the figure of song can be composed. I found a template for non-metrical rhythm in English speech––and in poetry which proceeds from speech. Joining words, already synesthetic objects, in their syntax, to notes in theirs, all governed by the quick metric modulation of the talking mind.
These interests led me naturally to compose opera, an arena where music and words are projected, amazingly, by human bodies only, as well as to the creation of the Webster word-organ, in which text and notes are projected together mechanically from a keyboard. I'm currently working on an opera in two acts from a radio play by Samuel Beckett, a new collection of recorded art songs, and a book about the unit circle.
- December 2010
Biography
Michael Webster is a composer, conductor, performer, and recording artist who has created film scores, albums, art songs, and operas. His body of work grows out of classical training and his study of ancient music forms. Webster's operas, specifically, are rooted in the sensitivity that words and poetry create musically.
Webster's performances include Michael Webster and his Band of Grown Men, which premiered at Los Angeles County Museum of Art (1998), and Proposal for The Side of the Mountain, at Santa Monica Museum of Art (2002). In 2004, Webster's opera Hell, based on Dante's Inferno, with a libretto by Eileen Myles, premiered at Performance Space 122. It went on to tour at venues including St. Mark's Church, the Hammer Museum at the University of California, Los Angeles; Yerba Buena Center for the Arts; and Centro Cultural Tijuana, Mexico. With funds from his Grants to Artists, Webster completed the vocal score of a new opera Nice Day for the Races––based on a radio play by Samuel Beckett––the first portion of which was shown in film form in 2013 at 356 Mission, Los Angeles. Webster was also able to resurrect the non-profit Peoples Opera, which he and Eileen Myles formed in 2004.
Webster has recorded a number of solo albums including The Native Shrubs of the Santa Monica Mountains (1994), Lotus Festival (2000), and Report (2008). Additionally, Webster has composed and recorded scores for artists' films shown at the Venice Biennial and the Whitney Biennial.
Prior to his 2011 Grants to Artists, Webster received a grant from the UC Institute for Research in the Arts (2004), a Meet the Composer Grant (2005), and The Puffin Foundation General Grant (2006). Webster received a B.F.A. (1990) and an M.F.A. (1992) from the California Institute of the Arts.