Miguel Gutierrez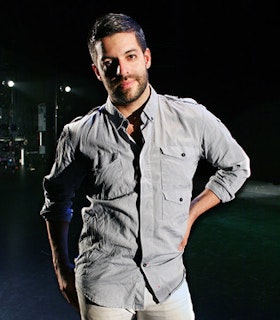 It is tremendously affirming to know that people in the dance and performance community are aware of the work I have been doing and that they mobilized to nominate me and support that nomination for [this award]… It arrived at a critical moment in my career path.
- Miguel Gutierrez, January 2011
Artist Statement
I am a Brooklyn-based dance and performance maker. I create evening-length performances that engage enduring philosophical questions regarding who we are as individuals and why we are here. My pieces are rigorous and generous frameworks that exercise perception on physical, emotional, and intellectual levels. My work is about desire, longing, and the search for meaning. My first encounters with dance were as a young, repressed, queer boy growing up in New Jersey, the son of Colombian immigrants who had aspirations for me that did not include "dancer." When I was little my sister and I, social outcasts that we were, would spend Friday nights staging celebratory solo improvisational dances for each other. One of us would put on a record and the other would instantly create a performance to it. Through this dancing I experienced myself as powerful, sensual, ecstatic, totally engaged with the present and free from societal expectations of propriety. In these performances I was able to identify and externalize the tapestry of my fiercely private interior life. This combination of pleasure, resistance, imagination, and personal revelation still fuels my art-making today.
- December 2009
Biography
Miguel Gutierrez is a Brooklyn-based dance and music artist who makes solo and group pieces with a variety of artists under the moniker Miguel Gutierrez and the Powerful People, founded in 2001. Gutierrez's work has been commissioned by Australian company BalletLab and Pittsburgh company LabCo. He has also performed extensively as a singer and dancer.
Gutierrez's 2010 Grants to Artists award supported his works I SAY THE WORD (2010), a collaboration with Jenny Holzer at The Institute of Contemporary Art/Boston, and HEAVENS WHAT HAVE I DONE (2010), a solo set to music sung by soprano Cecilia Bartoli.
Gutierrez's works prior to his 2010 FCA grant include myendlesslove (2006), Everyone (2007), and Nothing, No thing (2008). Last Meadow (2009) was presented at festivals and venues nationally and internationally including the American Realness festival; Festival D'Automne, Paris; Antipodes Festival, Brest, France; TBA/PICA in Portland; Out There Festival, Walker Art Center; and ImPulsTanz, Vienna. He has since created Storing the Winter (2013), Age & Beauty Part 1: Mid-Career Artist/Suicide Note or &:-/ (2014), and Age & Beauty Part 2: Asian Beauty @ the Werq Meeting or The Choreographer & Her Muse or &:@& (2015).
Subsequent to receiving his 2010 FCA grant, Gutierrez was named a John Simon Guggenheim Memorial Foundation Fellow (2010) and a United States Artists Prudential Fellow (2010). He was awarded a Rockefeller MAP Fund Grant for his evening-length work And lose the name of action (2012). Prior to his 2010 Grants to Artists award, Gutierrez received two New York Foundation for the Arts Fellowships in Choreography (2004, 2008), a Tides Foundation Lambent Fellowship in the Arts (2006-2008), a New York Dance and Performance "Bessie" Award for the choreography of Retrospective Exhibitionist and Difficult Bodies (2006), and a Creative Capital Grant (2009).
Gutierrez studied at Brown University (1989-1992) and at New York University (1992-1993). Since his 2010 Grants to Artists award, he has taught at Bennington University; Brown University; University of Maryland; University of Illinois at Urbana-Champaign; University of California, Los Angeles; Movement Research; TanzQuartierWien; ImPulsTanz; Center for Performance Research; University of Utah, Salt Lake; Gibney Dance Center; and Abrons Arts Center; among others. Gutierrez served as the curator for The Kitchen's Dance and Process program and for Chez Bushwick's Shtudio Show, both from 2005 through 2006. He sits on the Artists' Advisory Board for Danspace Project, and continues to teach classes and workshops in contemporary technique and composition globally.