Mina Nishimura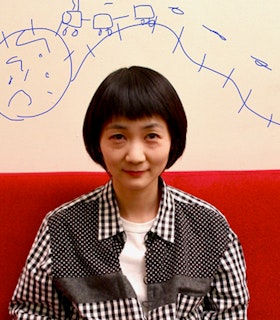 As much as I appreciated and enjoyed my lift as a full-time dance artist, I was afraid of getting stuck in the couch-surfing life, which was not a healthy or sustainable lifestyle. But juggling multiple part-time jobs greatly constrains and consumes my time and energy that I want to use towards dance. And such a lifestyle didn't look sustainable either. So when I received a call about this award, I literally thought this was a gift from God. I cried with deep appreciation, relief, and delight, and found bright hope for continuing my life as a dance artist in this country.
- Mina Nishimura, December 20, 2019
Artist Statement
My recent body of work focuses on exploring the relationship between internal landscapes and external forms while attempting to create an alternate world that reveals mystery, invisible things, subtle nuances of beings, and relationships that appear to be lost in our rigidly defined contemporary world. Influenced by the Buddhist concepts such as "emptiness is everything" and "inter-being-ness of opposite things," my choreographic works attempt to reveal interconnectivities between visible and invisible, ephemeral and eternal, and different beings encountering one another.
Over the years, I have also been dedicated to the exploration and development of practices that liberate our bodies from the sense of self and existing concepts of a body. And I aim to heighten the aspects of dance that allows the voices of our late ancestors, future species, all living things, the deceased, nature, and even man-made objects be heard through our bodies in imaginative, radical, and experiential ways. I believe that this way of approaching to body and dance contributes to make our world a more fertile and thoughtful place!
- December 2018
Biography
Mina Nishimura is a dance artist whose performance works focus on the relationship between internal landscapes and external forms while attempting to reveal mysteries, and the invisible and unseen essences of beings. Buddhism-influenced concepts such as emptying, forgetting, and inter-being are reflected across her somatic, performance, and choreographic practices.
In Bladder Inn (and X, Y, Z, W) (2018), commissioned by Danspace Project with additional support from a Foundation for Contemporary Arts Emergency Grant, Nishimura investigated interconnections between visible and invisible beings, and bodies that slip away from present space and time before they solidify. Sinking while Floating, Singing while Thinking (2018), commissioned by Gibney Dance Center, led her to further investigate a blurry landscape through which bodies travel between different internal states, while finding alternate ways of being in the present moment and connecting to each other.
Nishimura's first evening-length work, TUNA, was commissioned by Dance Theater Workshop in 2007. She went on to produce Me Singing (2008), commissioned by The Kitchen: Dance and Process, and Timmy's Idea (2009), commissioned by Dance Theater Workshop. Nishimura's second evening-length work, Sandwoman (2011), was presented through a residency at Brooklyn Arts Exchange. She has performed and collaborated with artists such as DD Dorvillier, Yoshiko Chuma, Ursula Eagly, Moriah Evans, Daria Fain, Ellen Fisher, David Gordon, Neil Greenberg, Satoshi Haga, Trajal Harrell, John Jasperse, Rashaun Mitchell + Silas Riener, Dean Moss, Cori Olinghouse, SIA, Vicky Shick, Mårten Spångberg, RoseAnne Spradlin, Nami Yamamoto, Kota Yamazaki, and Chantal Yzermans.
Nishimura has curated for Sundays on Broadway at Cathy Weis Projects (2018), the Watershed Lab at Mount Tremper Arts Center (2018), Food for Thought at Danspace Project (2016), and the Movement Research Festival (Spring 2014). She is a faculty member at Sarah Lawrence College, and has taught at Bennington College, University of California, Davis, Ferris University, Brooklyn Studios for Dance, and Movement Research.