Missy Mazzoli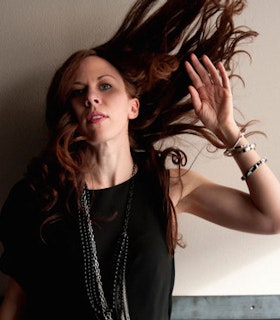 Thanks to the support of the Foundation for Contemporary Arts, the last twelve months have been an extremely productive and fulfilling time in my artistic life. As a direct result of my FCA award, I was able to record, mix, master and produce my third full-length album, Vespers for a New Dark Age... Support from the FCA also allowed me to finance rehearsal space and travel costs for a small tour in support of this record... I have also spent the majority of this year writing and orchestrating my first full-length opera, Breaking the Waves, the largest and most ambitious project I have attempted to date... The FCA grant allowed me much-needed time and space to not only write these works, but to attend premieres, give masterclasses and attend rehearsals... I am extremely grateful to the Foundation for Contemporary Arts for this award. It has not only helped me financially, but has allowed me to move forward more confidently and energetically with my art-making.
- Missy Mazzoli, December 11, 2015
Artist Statement
Through my operas, albums, performances, and concert works, I explore mysterious, contradictory, and often difficult aspects of human experience. Most of my recent operas revolve around female characters (Lot's wife, Isabelle Eberhardt) who find themselves in nearly impossible situations, and who end up challenging our basic assumptions about gender, identity, and fate. I am also inspired by our modern struggle to integrate faith and mystery into lives driven by technology. I am fascinated by the role of live performance and other "magical" rituals in a world that is simultaneously more isolated and interconnected. My newest work, Vespers for a New Dark Age (2015), explores these ideas. Scored for a chamber ensemble, electronics, and percussionist Glenn Kotche, this piece is a modern, personal take on the Vespers prayer service. The concert works I have created, most recently for the Los Angeles Philharmonic, the Detroit Symphony Orchestra, Kronos Quartet, and eighth blackbird, have also allowed access to new instrumental configurations and collaborations through which to explore these potent themes. The sum total of all of these paths and methods of working is not a career in music, but a life in music. I aspire to unite all of my diverse obsessions in increasingly more ambitious, large-scale work, while always striving to open even wilder avenues of creativity for future generations.
- December 2014
Biography
Missy Mazzoli has composed works for opera, orchestra, chamber ensemble, solo artists, vocal artists, and films. As a performer, Mazzoli is active as a pianist and keyboardist, and often performs with her band Victoire.
With the support of her 2015 FCA grant, Mazzoli recorded, mixed, master, and produced her third full-length album, Vespers for a New Dark Age (New Amsterdam Records, 2015). Vespers is an extended work for her ensemble Victoire, three singers, and percussionist Glenn Kotche. With funds from her Grants to Artists award, she also held concerts in support of her record at Le Poisson Rouge, the Walker Arts Center, and the Cincinnati Contemporary Arts Center. Additionally, in 2015 Mazzoli worked on her first full-length opera, Breaking the Waves. This work is based on the 1996 Lars von Trier film of the same name and will premiere at the Kimmel Center in Philadelphia in September 2016. In 2015 Mazzoli also had her first composer portrait concert at the Miller Theatre and her work was performed internationally by ensembles including the Kronos Quartet, the New York Philharmonic, and vocal octet Roomful of Teeth.
Mazzoli's works have been commissioned by Carnegie Hall, Los Angeles Philharmonic, the Young People's Chorus of New York, pianist Emanuel Ax, Kronos Quartet, and the Detroit Symphony, among others. Her music has also been performed globally by eighth blackbird, the New York City Opera, the Sydney Symphony, and the Minnesota Orchestra. Mazzoli founded Victoire in 2008, a band dedicated to her own compositions. Their debut full-length CD Cathedral City was named one of 2010's best classic albums by several New York publications. Victoire has performed at venues and festivals including the M.A.D.E. Festival in Sweden, the C3 Festival in Berlin, Millennium Park in Chicago, and the Winter Garden as part of the Bang on a Can Marathon. In February 2012, Beth Morrison Projects presented Song from the Uproar, Mazzoli's first multimedia chamber opera, which had a sold-out run at The Kitchen. Her works are published by G. Schirmer.
In 2015, Mazzoli was a composer-in-residence at the Yaddo Colony, the Cabrillo Festival of New Music, and the Bay Chamber Festival in Rockport, Maine. Prior to receiving her 2015 Grants to Artists award, Mazzoli was the recipient of a Fulbright Grant to the Netherlands (2002-2004), ASCAP Young Composer Awards (2007, 2008, 2009), the Detroit Symphony's Elaine Lebenbom Award (2012); as well as grants from the Jerome Foundation (2010), the American Music Center (2012), and the Barlow Endowment. She has been a composer-in-residence with the Albany Symphony (2011-2012) and Opera Philadelphia, in collaboration with Gotham Chamber Opera, and Music Theatre-Group (2012-2013).
Mazzoli received a B.M. in Music Composition from Boston University in 2002, and an M.M. in Music Composition from the Yale School of Music in 2006. She also participated in graduate studies at the Royal Conservatory of Den Haag in the Netherlands. Mazzoli joined the faculty at Mannes College of Music at The New School in 2013.