Modesto Flako Jimenez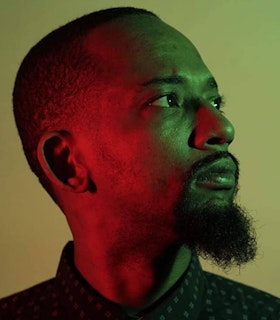 The bedrock of assistance that the funding provided proved to be both life-changing and extremely essential to my practice for the year, as well as granting me emotional breathing room in order to fully conduct myself as an artist and human being.
- Modesto Flako Jimenez, January 10, 2022
Artist Statement
I've always loved creating DOPE work with DOPE people! My work is often collaborative and multidisciplinary. I am interested in exploring the connections between people, places, and their histories. As an artist, I feel my goal is to bring people together to start a dialogue over political and social issues critical to our community's growth.
- December 2020
Biography
Modesto Flako Jimenez is a Dominican-born, Bushwick-raised, multi-hyphenate artist. As a poet, playwright, educator, actor, producer, and director his work exists in and explores the intersections of identity, language, mediums, cultures, and communities found in his personal life and beyond.
Jimenez's art addresses the social and political changes affecting the Latin American communities in his Bushwick neighborhood. His 2020 play, Taxilandia, draws on his nine years of experience driving a taxicab in New York City and his documentation of conversations with passengers, residents, locals, and immigrants. He has worked with companies all over the country, including La Jolla Playhouse and New York Theater Workshop, to develop local versions of Taxilandia specific to different cities. The piece is devised in three phases, beginning with a series of virtual salons with local artists whose work intersects with gentrification and ending with live presentations and an interactive gallery.
Jimenez's performances include Taxilandia, which premiered virtually with La Jolla Playhouse, La Jolla, CA (2020); ¡Oye! For My Dear Brooklyn at Abrons Art Center, New York, NY (2018); Last Night at The Palladium at 3LD Art & Technology Center, New York, NY (2016); and Conversation Pt 1: How to Make it in Black America at JACK, Brooklyn, NY (2015). He has produced three festivals with Oye Group: Ghetto Hors d'Oeuvres, One Catches Light, and Oye! Avant-Garde Night. He was awarded a Princess Grace Foundation Works in Progress residency (2019), a MAP Fund Grant for Taxilandia (2019), the Hispanic Organization of Latin Actors Outstanding Solo Performance Award (2017), a Princess Grace Foundation Theater Honoraria (2016), and the Hispanic Organization of Latin Actors Best Ensemble Award (2015).
Jimenez attended Bennington College. He founded and is the Artistic Director of Oye Group. Jimenez also works as a Community Programmer at The Bushwick Starr and a professor at Sarah Lawrence College, and leads poetry and theater workshops for teens through Oye Group.