Molissa Fenley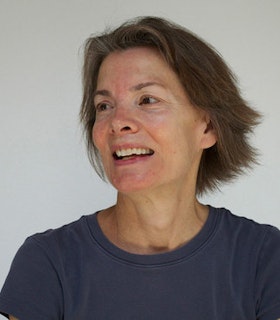 The grant was used primarily to pay dancer's salaries and to rent rehearsal space for the making of a work titled Short Stories... Thanks very much for this opportunity to create and perform a new work. I think it's a 'keeper' and I look forward to more performances!
- Molissa Fenley, January 25, 2002
Artist Statement
formally working with the idea of the individual in space, the space changed by
the individual's presence and the presence of the individual altered because of her placement in space.
ensemble work concerned with the space around dancers, how they intersect and weave,
after-image effects of one dancer's space seen again by another dancer in counterpoint or in resonance of a repetition—space seen from different points of view from one dancer to the next. Rhythmically working together in parallels of time frames but each dancer sometimes on their own rhythmic trajectory, sometimes in unison with another element that is asymmetrically askew (movement quality or choice phrase). Dancer's space seen inside/outside of another dancer's space—a square inside of a square, a circle inside of a circle, a triangle inside of a square.
the choreography sees the dancer as an individual bringing their own particular
voice to the translation of the actual dance vocabulary.
the choreography tries to express a feeling of freedom, created in a very intimate,
close-in kind of way but performed as if far away.
many pieces are created in collaboration with contemporary artists (composers,
sculptors, painters, poets, playwrights).
dance that suggests different states of mind through an immersion into a
movement vocabulary that is particular for each dance. dance that is formed by an initial idea of the spatial construct, for example, Floor Dances (1989), performed inside a circle of stones by artist Richard Long, the dance stays within the scale of the sculpture never coming to the figure in full standing. The vocabulary's images created after seeing photographs of birds and other marine animals encrusted with oil after the Exxon oil spill in Valdez. That dance was placed in time. Other dances have evolved from the idea of spatial orientation as a beginning that also makes room for the intuition of the moment, the spontaneity to suggest going somewhere else.
- 2000
Biography
Molissa Fenley is a choreographer, performer, and teacher of contemporary dance. She founded her company in 1977 and has created over 80 dance works.
Fenley has created many works on ballet and contemporary dance companies, including the Oakland Ballet, Pacific Northwest Ballet, Robert Moses' Kin, and the Seattle Dance Project. Fenley premiered Short Stories (2002) at The Joyce Theater with the support of her 1999 FCPA grant funds. Fenley's works created subsequent to her Grants to Artists award include 331 Steps (2002), with music by Laetitia Sonami; Waiting for Rain (2003), with music by Robert Ashley; Lava Field (2004), with music by John Bischoff; Dreaming Awake (2006), with music by Philip Glass; Cosmati Variations 1-4 (2008), with music by John Cage; The Vessel Stories (2011), with music by Philip Glass; Redwood Park, parts 1 and 2 (2014); and the reconstruction of Esperanto (2014) at the Judson Memorial Church.
Fenley has performed with her company and as a soloist working in collaboration with visual artists and composers throughout the United States, Canada, South America, Europe, Australia, and Asia. Her work has been commissioned by the American Dance Festival, the Brooklyn Academy of Music's Next Wave Festival, Dia Art Foundation, Jacob's Pillow, The Joyce Theater, Lincoln Center, the New National Theater of Tokyo, The National Institute of Performing Arts in Seoul, The Kitchen, New York Live Arts, and La MaMa E.T.C.
Following her 2000 FCPA grant, she was named a 2008 John Simon Guggenheim Memorial Fellow, a 2008 Fellow of the American Academy in Rome, a 2013 Fellow of the Bogliasco Foundation, and a 2009 Master Artist of the Atlantic Center of the Arts. Prior to her 2000 Grants to Artists award, Fenley received a New York Dance and Performance "Bessie" Award for Choreography for Cenotaph (1985) and another for Oustanding Performer in State of Darkness (1988).
Fenley graduated from Mills College in 1975 with a B.A. in Dance, where she is now the Danforth Professor of Dance. She has also taught choreography at New York University and Bennington College.