Mónica de la Torre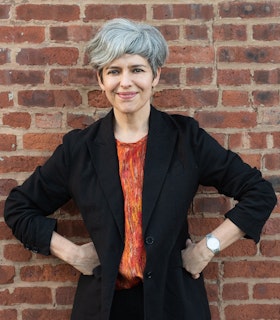 Artist Statement
My writing is guided by experimental research that prompts playful explorations of a particular subject rather than definitive interpretations. I aspire to a capaciousness that accommodates assorted modalities—lyrical, process-based, documentary, conceptual—as well as to the ability to refract my findings into imaginative poems that put generic conventions to the test. In Repetition Nineteen (2020), for instance, I explore memory, dislocation, and my complex relationship to Spanish and English by producing 25 different translations of the poem "Equivalencias" that I wrote in the 1990s. The Happy End/All Welcome (2017) is a performance text set in the giant job fair that the fictional Nature Theatre of Oklahoma holds at the end of Kafka's Amerika, and which artist Martin Kippenberger reimagined as a hodgepodge of mismatched desks and chairs in his 1994 iconic installation. Through subverted job-related discourse, fictional dialogues, and poems musing on chairs, I explore corporate culture, creative labor, and performativity in relation to the history of twentieth-century design. I'm interested in revisiting the past as if it lay ahead of us horizon-like, in investigating the disjunctions and eerie doublings produced by contemplating its artifacts through the eyes of the present, and, as a result of this method, in opening up new creative paths.
- December 2021
Biography
Born and raised in Mexico City, Mónica de la Torre is a poet whose creative practice involves working with and between languages in various disciplines.
Repetition Nineteen (Nightboat Books, 2020) emerged out of de la Torre's realization that she had been living in the United States as long as she had in Mexico City. Featuring twenty-five translations of a Spanish-language poem included in her first book, Repetition Nineteen is a far-ranging meditation on the act of translation, offering insight into de la Torre's own methodology and reflecting on the instability of language.
De la Torre's other published works include The Happy End/All Welcome (Ugly Duckling Presse, 2017); Public Domain (Roof Books, 2009); and Talk Shows (Switchback Books, 2007). She is also the author of several books in Spanish, among them the image/text volume Taller de Taquimecanografía (Tumbona Ediciones, 2011), an exquisite corpse assembled with the eponymous women's art collective she cofounded with Aura Estrada, Gabriela Jauregui, and Laureana Toledo in the mid-2000s; Sociedad Anónima (Bonobos Editores/Universidad Nacional Autónoma de México, 2010); and Acúfenos (Taller Ditoria, 2006).
With Alex Balgiu, she coedited the international anthology Women in Concrete Poetry 1959–79 (Primary Information, 2020). She has translated Spanish and Portuguese-language poets—such as Juan Luis Martínez, Gerardo Deniz, Lila Zemborain, Amanda Berenguer, and Ana Hatherly—and coedited the multilingual anthology of contemporary Mexican poetry Reversible Monuments (Copper Canyon Press, 2001). De la Torre received a New York State Council on the Arts Literature Grant (2018) for her translation of Chilean Modernist Omar Cáceres's Defense of the Idol (Ugly Duckling Presse, 2018). She is also on the editorial board of Ugly Duckling Presse's series of Latin American poetry in translation, Señal.
Appendices, Illustrations, and Notes (Smart Art Press, 1999), written jointly with Terence Gower, marked de la Torre's first collaboration with a visual artist. She has since contributed to publications by artists, including Iñaki Bonillas, Abraham Cruzvillegas, Suzanne McClelland, Florian Meisenberg, Lucy Raven, and Laureana Toledo. De la Torre's prose response to works by Felix Gonzalez-Torres was also featured in Photostats (Siglio Press, 2020).
She is the recipient of a Creative Capital Award (2022); a Lucas Artist Fellowship at the Montalvo Arts Center (2017); a Lannan Foundation Residency Fellowship (2014); and a New York Foundation for the Arts Poetry Fellowship (2009).
De la Torre holds a B.A. from Instituto Tecnológico Autónomo de México and an M.F.A. and Ph.D. from Columbia University. From 2007-2016, de la Torre served as senior editor for BOMB; she remains a contributing editor to the publication. Prior to that, she was the first poetry editor at The Brooklyn Rail. Her critical writing and poetry have appeared in Artforum, The New York Review of Books, The New Yorker, A Public Space, and The Paris Review, among other publications. She teaches poetry at Brooklyn College.