Moriah Evans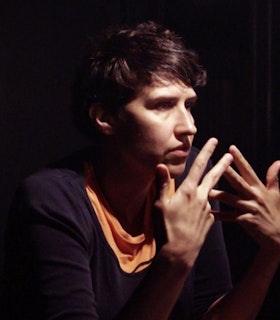 Yes, the funds are irreplaceable, unexpected and extraordinarily helpful to the projects I pursued during 2017. However, the greatest gift of this grant, for me, was that somehow various peers or mentors or colleagues in the field had somehow actually been paying attention to all the work I do each day of my life as an artist. Work that is so often ignored and taken for granted. Work that is never paid, hardly recognized as work, and that few people seem to be able to articulate to the wider world effectively about why it's important, necessary, should exist and be done. So, this echo chamber feeling that places me in a state of isolation was somehow shattered by the genuine care and observation of an artistic community that is listening, watching and looking after the development of the field.
- Moriah Evans, January 19, 2018
Artist Statement
My practice is rooted in art and dance historical lineage. Recently, I have been processing compositions by procedures that insist on the value of bodies in motion and relation. Institutional critique is inherent in my watching, analyzing, and making. I investigate dance as a form as well as the exhibitionism inherent to performance. What is a dance? I tirelessly face how little and how much I can know about dance. I can't ever know it. It disappears, always in search of a dance and dancing. I interrogate dance's complex histories/forms, while operating with an expanded sense of choreography. Choreography incorporates frames of social structures and institutional forces. Dance is an expression. Choreography is a systematic means for that expression, whether it is derived or discovered. It's all there to be staged—as it is, as it isn't, as it might be. Performance events: sites for precious, impermanent community gatherings. Can I produce a means to read a dance, community, and personalities of those performing-observing within it? Relationships between aesthetics, politics, and the means of production coalesce into seeing and being seen within this social ritual.
- December 2016
Biography
Moriah Evans is an artist working in and on the form of dance—as artifact, object and culture with its histories, protocols, default production mechanisms, modes of staging and viewing—and the capacity of the public to read dance. Her choreographies navigate utopic and dystopic potentials and tendencies within dance, approached as a fleshy and matriarchal form sliding between minimalism and excess.
Evans's 2017 Grants to Artists Award supported Figuring (2018), which premiered at SculptureCenter in Long Island City. Evans's notable works prior to her FCA support include Out of and Into (8/8): STUFF (2012); Another Performance (2013); Social Dance 1-8: Index (2015); Social Dance 9-12: Encounter (2015); Be my Muse (2016); and Out of and Into: Contain (2016). Her choreographic work has been commissioned and presented in New York by Danspace Project; MoMA PS1; ISSUE Project Room; Movement Research at Judson Church; and the American Realness festival; in California at CalIT2; as well as internationally at Kampnagel (Hamburg, Germany); Theatre de l'Usine (Geneva, Switzerland); Villa Empain (Brussels, Belgium); and Atelier de Paris Carolyn Carlson (Paris, France).
Evans was an Artist-in-Residence at Movement Research (2011-2013); The New Museum (2012); Lower Manhattan Cultural Council (2013, 2014); ISSUE Project Room (2014); Studio Series at New York Live Arts (2015); and MoMA/PS1 (2016). She was nominated for the New York Dance and Performance "Bessie" Award for Emerging Choreographer for her work Social Dance 1-8 Index (2015). During her residency at Movement Research, she initiated The Bureau for the Future of Choreography, a collective apparatus involved in research processes and practices to investigate participatory images of performance and systems of choreography.
Evans received her B.A. in Art History and English Literature from Wellesley College and her M.A. in Art History, Theory, and Criticism from the University of California, San Diego. She is Editor-in-Chief of the Movement Research Performance Journal.