MPA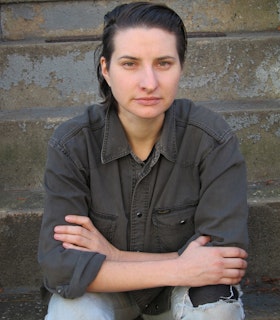 ... The grant enabled me to clear the calendar and immerse myself with growing questions for performance and experiment with directing performances for the camera... The time I bought myself, clear of distraction and stress, seems to imply a self-made residency but it was more. It had been five years since I had steady housing in NYC with a shower, kitchen, and nothing illegal. The grant allowed me to set up a home. Here, an amazing sea of work and theories opened and continue.
- MPA, January 3, 2014
Artist Statement
I view the body as a site tethered to social and political economies that define a space. It is both representational and emotional, and the tension between the body as affect and object is a source to my work as an artist. My performances and installations rely on presence and the energetic to acknowledge power as an intersection of relations. What is the psychic material for survival? How can performance, in its temporality, relieve us—viewer and performer—momentarily from a feeling of separation, and unite us in another confrontation, a meeting of meaning that belongs neither to the performer or viewer but embodies the projections of both. Performance is the event in which I devote my body to an action. This commitment is a choice, and choice met with action can read as a demonstration. The energetic is that sensation that struggles for articulation by existing in and around fixations. Simultaneously beginning and ending, it interrupts definition. I am committed to the potential within this experience.
- December 2012
Biography
MPA is an artist who engages her body in performance and installation pieces. She explores the social and political implications of the body as a site of resistance in her work. Her body of work Directing Light onto Fist of Father (2011), shown at Leo Koenig Inc. combined 16mm film and a plaster cast of her father's fist in an installation inciting three durational performances. Trilogy (o) (2012) centered on photographs of Nike war missiles as an orbiting moon calendar at the arts cooperative Human Resources in Los Angeles.
MPA's works and performances have been seen at the Swiss Institute, the Whitney Museum, Los Angeles Contemporary Exhibitions, Stedelijk Museum, the Center for Performance Research, The Kitchen, Hudson Guild Theater, the Art Institute of Chicago, the Museum of Contemporary Art Chicago, Art in General, Museo de Arte Contemporáneo, Oaxaca; and Meat Market Gallery, Washington D.C. MPA is a frequent collaborator, and is visible in works by contemporary photographers, painters, and performers.
After her FCA support, MPA relocated to Twentynine Palms, California to research somatic practices. Prior to her Grants to Artists, MPA received a Community Arts Assistant Program Grant in Chicago (2006), and was an artist-in-residence at La Pocha Nostra Residency in Oaxaca, Mexico (2006); the Hancock & Kelly Live Artist Residency, Nottingham, United Kingdom (2007); the International Artists Studio, Stockholm (2010); and the Denniston Hill Artist Residency in Woodridge, NY (2010).
MPA received her B.F.A. from Hampshire College, and is a visiting faculty member in New Genres at the University of California, Los Angeles.