Muhal Richard Abrams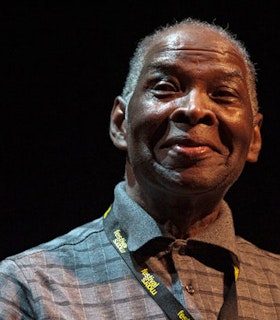 Throughout the past year, I have been able to spend time studying and composing. The [grant from the] Foundation has allowed me the time to work unfettered by certain financial concerns.
- Muhal Richard Abrams, December 28, 1998
Biography
Muhal Richard Abrams is a composer, arranger, and pianist in a variety of musical styles, including jazz, extended forms of improvisation, and classical music. Abrams composes for various types of instrumental combinations, performing solo piano concerts, and touring throughout the world with various ensembles.
In the 1950s, Abrams wrote arrangements for pianist King Fleming's Jazz Orchestra. From 1957 to 1959, he played hard bop in Walter Perkins' group MJT + 3 (Modern Jazz Two Plus Three), and accompanied leading jazz performers during their visits to Chicago, including Kenny Durham, Art Farmer, Hank Mobley, Ray Nance, Max Roach, and Sonny Stitt. In 1961, Abrams began his foray into extended forms of composition and improvisation in his Experimental Band, which included musicians such as saxophonists Roscoe Mitchell and Joseph Jarman.
In 1967 Abrams made his recording debut, Levels and Degrees of Light on Chicago's Delmark label, and later released Sightsong and Rejoicing With the Light, both on the Black Saint label. Novi, his first symphony for orchestra and jazz quartet, has been performed at various festivals, and the Kronos Quartet performed his String Quartet, no. 2. Vision Towards Essence is a live recording of Abrams performing solo at the 1998 Guelph Jazz Festival in Canada. This recording captures an unedited account of a continuous sixty-minute, fully improvised performance.
Subsequent to Richard Abrams's 1997 Grants to Artists award, Chicago Mayor Richard M. Daley issued a proclamation declaring April 11, 1999, to be Muhal Richard Abrams Day. In 2008 he was chosen by United States Artists to be a Prudential Fellow in the field of music. In 2010 he was selected for the DownBeat Jazz Hall of Fame and received the National Endowment for the Arts Jazz Masters Award. Abrams received a 2015 Doris Duke Artist Award. Prior to his FCPA grant, Abrams became the first recipient of the Danish JAZZPAR Award in 1990.
During the last thirty years, Abrams has taught jazz composition and improvisational classes at the Banff Centre, Columbia University, Syracuse University, Stanford University, Mills College, the University of California in San Diego, the New England Conservatory in Boston, and the Broadcast Music, Inc. Composers Workshop in New York City. He also taught internationally in Finland, Canada, and Italy. Abrams is a co-founder and the first president of the Association for the Advancement of Creative Musicians (AACM), founder of the AACM School of Music, and president of the AACM New York Chapter.