My Barbarian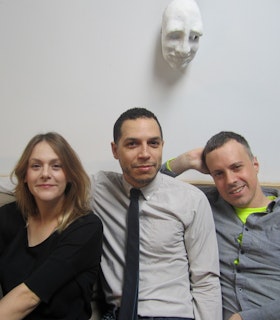 This award allowed us to create our most ambitious work and it has resulted in what appears to be our most important work yet: a proposal for a feminist legacy, and a representation of a present generational melancholy that disallows us from ever fully reconstituting our origins, mythic or otherwise.
- December 20, 2013
Artist Statement
My Barbarian uses performance to theatricalize social problems. Recent works, such as The Mother (2013) and Blood on the Cat's Neck (2014), have adapted modern plays in order to situate and enact ideas of subjectivity and sociality through narrative scenes, musical numbers, hand-made masks, and other theatrics. Recent videos, like Universal Declaration of Infantile Anxiety Situations Reflected in the Creative Impulse (2013) and Counterpublicity (2014), have also adapted historical texts and used them as structures for performances that re-present the creative and discursive legacies shaping the group's current production. These legacies have included queer and feminist theory, conceptualism, and performance art history, but also political theater, social movements, and pop-culture performance.
Having performed as an experimental band since 2000, the trio defined itself between 2004 and 2008 through "site-responsive spectacles," developed as live events and videos, for which research on a specific location or situation produced critical questions that were playfully staged on site through actions, dialogue, songs, dances, and participatory exercises. Elaborating on these techniques, the group's "Post-Living Ante-Action Theater (PoLAAT)" was initiated in 2008 and has created performances out of collaborative workshops in locations around North America, Europe, and the Middle East. This project formalizes My Barbarian's pedagogy, but relies on group participation and collaboration, framing those as both creative and political processes. The group's "Broke People's Baroque Peoples' Theater," which began in 2011, has been another expansive category for making work. A semi-fictional theater company, the "Broke Baroque" produces performances ranging from short operas, to masked plays, to interactive court entertainments, narrative and experimental videos, sculptural objects, drawings, collages, gallery installations, and parades. In this project, the group uses the historical baroque as a source of camp excess, but also as an allegorical model for art in an age of economic disparity and questionable tastes.
- December 2014
Biography
My Barbarian is a performance collective founded in 2000 by Malik Gaines, Jade Gordon, and Alexandro Segade. Their work consists of performances as well as presentations of performance and installations of video, sculpture, and drawing. Their FCA-supported installation Universal Declaration of Infantile Anxiety Situations Reflected in the Creative Impulse (2013) is a 30-minute HD video made up of a series of interactions with the mothers of the three co-founders and two female artists. The performers act out a real, imaginary, and symbolic feminist/feminine legacy and take interactions from Bertolt Brecht's 1939 play The Mother, allowing the collective to explore the construction of motherhood within the political realm. The work was shown at Gallery 400, the University of Illinois, Chicago; and at Susanne Vielmetter Los Angeles Projects.
My Barbarian's work has been included in the 2005 and 2007 Performa Biennials, the 2007 Montreal Biennial, the 2006 and 2008 California Biennials, the 2009 Baltic Triennial, and the 2014 Whitney Biennial. Their work has presented performances at sites including The Museum of Modern Art, The Kitchen, the New Museum, the Whitney Museum of American Art, The Studio Museum in Harlem, the Los Angeles County Museum of Art, The Museum of Contemporary Art, Los Angeles; the Hammer Museum at the University of California, Los Angeles; the San Francisco Museum of Modern Art; Aspen Art Museum; the Institute of Contemporary Art, Philadelphia; REDCAT, Los Angeles; Schindler House, Los Angeles; and the American Repertory Theater at Harvard Univeristy. The group has presented performance and installation work in solo exhibitions including Dance Witches Dance, in collaboration with Lara Schnitger, at the Luckman Gallery, Los Angeles (2009) and at the Museum Het Domain, Sittard, Netherlands (2008); The Night Epi$ode at the Hammer Museum, Los Angeles (2010), and Participant Inc., New York (2009).
Mailk Gaines received a B.A. from the University of California, Los Angeles (1996), an M.F.A. from the California Institute of the Arts (1999), and a Ph.D. from the University of California, Lost Angeles (2011). Gaines is an assistant professor of Combined Media at Hunter College, CUNY. Jade Gordon received a B.A from the University of Southern California (2008), and an M.A. from the University of California, Los Angeles (2011). Gordon is an instructor at the California Institute of the Arts. Alexandro Segade received a B.A. from the University of California, Los Angeles (1996) and an M.A. from the University of California, Los Angeles (2010). Segade is an instructor at Parsons, New School for Design.