Nathaniel Mackey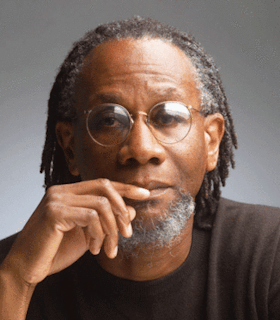 I find that prose requires a steadier diet of uninterrupted time… The FCA grant will be especially helpful on that front, assisting me in getting time off from teaching… I deposited the $25,000 in the bank with the aim of combining it with sabbatical credits and a grant or grants from elsewhere to take a significant leave from teaching.
- Nathaniel Mackey, January 14, 2008
Artist Statement
I write primarily in an open, serial mode, whether in verse or in prose. Over the course of years my writing has come to be concentrated in three ongoing works: the serial poem Song of the Andoumboulou, the serial poem "Mu," and a series of epistolary novels collectively titled From a Broken Bottle Traces of Perfume Still Emanate. Seriality and ongoingness offer a break from assumptions of a bounded, self-sufficient work, accenting the fact that pieces are in fact pieces and thus dependent on one another, porous to one another, insisting on provisionality and evolving relations among parts. Pieces within a series lean on each other and the series themselves lean on each other, so that Song of the Andoumboulou and "Mu" relate to and resonate with one another while doing so with From a Broken Bottle as well. I approach my writing as "of a piece" in more senses than one, admittedly fractional but wanting to imply—all the more wanting to imply—the proverbial whole the parts fail to add up to.
- December 2006
Biography
Nathaniel Mackey is a poet, novelist, editor, and critic. His work often explores how language can be infused and informed by music, especially jazz. His writing tries to cultivate the music of language, in sounds, meaning, and implication.
Prior to receiving his 2007 Grants to Artists award, Mackey had authored the chapbooks of poetry Four for Trane (1978), Septet for the End of Time (1983), Outlantish (1992), Song of the Andoumboulou: 18-20 (1994), and Four for Glenn (2002); and the books of poetry Eroding Witness (1985), School of Udhra (1993), Whatsaid Serif (1998), and Splay Anthem (2006). He coedited, with Art Lange, the anthology Moment's Notice: Jazz in Poetry and Prose (1993). Mackey is also the author of two books of criticism, Discrepant Engagement: Dissonance, Cross-Culturality, and Experimental Writing (1993; paper edition 2000) and Paracritical Hinge: Essays, Talks, Notes, Interviews (2005).
Mackey's 2007 FCA grant allowed him to work on writing Bass Cathedral (2008), volume four of his fiction series From a Broken Bottle Traces of Perfume Still Emanate, and Nod House (2011). He has subsequently released the chapbooks of poetry Anuncio's Last Love Song (2013) and Outer Pradesh (2014).
Since receiving his 2007 Grants to Artists award, Mackey has been recognized with the Stephen Henderson Award from the African American Literature and Culture Society (2008), a John Simon Guggenheim Memorial Foundation Fellowship (2010), and the Ruth Lilly Poetry Prize from the Poetry Foundation (2014). Mackey's awards and honors prior to his 2007 FCA grant include the selection of Eroding Witness (1985) for publication in the National Poetry Series, a Whiting Writer's Award (1993), election to the Board of Chancellors of the Academy of American Poets (2001), the National Book Award in poetry for Splay Anthem (2006), and the Roy Harvey Pearce/Archive for New Poetry Prize in (2007).
He received a B.A. from Princeton University and a Ph.D. from Stanford University. Mackey is the Reynolds Price Professor of English at Duke University. He has previously taught at the University of Wisconsin, Madison, the University of Southern California, and the University of California, Santa Cruz. He is editor of the literary magazine Hambone.