Netta Yerushalmy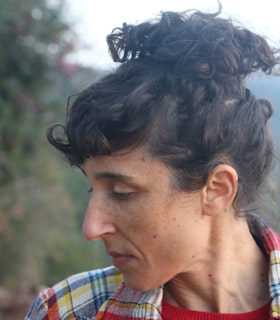 One of the most valuable aspects of receiving this grant was just simply the sense of recognition. The notion that my work was being seen and that space was made for it to be considered, discussed, felt, and supported—by a group of thoughtful artists and art advocates—this was an immense gift. It buoyed me throughout the year.The $40,000 funds were obviously also a huge boost. I was in the midst of the most ambitious and complicated project that I had ever been involved in [Paramodernities] and the financial support provided by FCA enabled me to sail so much more smoothly through the rapidly changing waters of this journey.
- Netta Yerushalmy, January 2019
Artist Statement
I can begin to narrate my work by saying that my body is a site of synthesis from which my dances sprout: my body as thoughts and desires; my body as abilities and disabilities; my body as history, especially dance history; my body as other people's bodies; my body as expression of insane devotion, as a die-hard slave to the work and slave to my body; my body as knowledge; my body as how it has been conditioned to feel good and real.
Pretty much all of the dances that I make consist of a sense of muchness. I crowd the things that I create with multiple choreographic and conceptual trajectories, often without totally reconciling their interface. This strategy of "side-by-sidedness" furthers my aesthetic and ethical commitment to generating questions rather than answers. It also advances my interest in moving viewers away from comfortable legibility and toward interlaced sensations and cognitions; toward perceiving intensity, beauty, detachment, logic, wonderment, friction, relish, and simultaneity itself.
I'm obsessed with the singular ways bodies can articulate themselves. Though language has recently been central to my work (my six–part Paramodernities series decodes modernism through both choreography and theory) my art-making begins and ends with a passion for the dancing body.
- December 2017
Biography
Netta Yerushalmy is a dance artist who works across genres and disciplines. Her work aims to engage with audiences by imparting the sensation of things as they are perceived, not as they are known, and to challenge how meaning is attributed and constructed.
In Paramodernities (2018), which was supported by her 2018 Grants to Artists award and for which she was awarded a National Dance Project Production and Residency Grant from the New England Foundation for the Arts, Yerushalmy deconstructs key modern choreographies through a series of "dance-experiments." In 2017, Yerushalmy contributed to artist Josiah McElheny's Prismatic Park, a public dance residency that took place in New York City's Madison Square Park.
Yerushalmy's work has been commissioned and presented domestically by venues such as the American Dance Festival in Durham, NC, and Danspace Project, the Joyce Theater, New York Live Arts, and La MaMa E.T.C. in New York. Her work has been presented in Israel by festivals including Curtain Up, Intimadance, and Jerusalem International Dance Week; and in Europe at Centre National de la Danse, Pantin, France; Hebbel am Ufer, Berlin, Germany; and the International Solo-Dance-Theatre Festival, Stuttgart, Germany. Her commissions for repertory companies include the Ririe-Woodbury Dance Company, Salt Lake City; Zenon Dance Company, Minneapolis; Same Planet Different World, Chicago; and the Philadelphia International Festival of the Arts, Philadelphia.
Yerushalmy currently performs in the work of Joanna Kotze and Pam Tanowitz. She has previously danced with Doug Varone and Dancers, Nancy Bannon, Mark Jarecki, Karinne Keithley, and the Metropolitan Opera Ballet. She choreographed a Red Hot Chili Peppers music video; collaborated on evenings of theory and performance at the Institute for Cultural Inquiry in Berlin, Germany; and was a participant in Lower Manhattan Cultural Council's Extended Life.
Yerushalmy has been an artist in residence at Baryshnikov Arts Center; BMCC Tribeca Performing Arts Center; Djerassi Resident Artists Program; Gibney Dance Center's Dance in Progress; Harkness Dance Center; Jacob's Pillow; Movement Research; The Watermill Center; and The Yard. She is the recipient of a Jerome Robbins Bogliasco Fellowship in Dance (2013); a John Simon Guggenheim Memorial Foundation Fellowship (2012); a New York Foundation for the Arts Fellowship in Choreography (2010); and a Six Points Fellowship (2010-12). She holds a B.F.A. with Honors from New York University's Tisch School of the Arts.