Newman Taylor Baker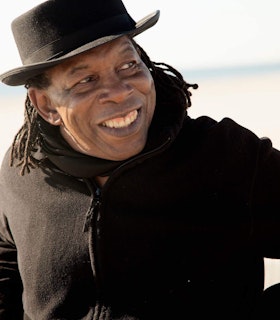 Artist Statement
My musical life is oriented towards live performance. From nine months old, when my parents discovered I was going to be a drummer, to WashboardXT, the drum in all its manifestations is central to my being and a major means of communicating and connecting with people. I believe that everything is a manifestation of energy. Thus I make music with positive energy to cause a positive effect in the universe and counteract the negativity that is so prominent in world consciousness. With the wars, duplicitous governments, and politicians working to dominate the global economy, the way I find to fight back is to generate positive events. Music, and especially the drum, speaks a basic human language that is free of cultural, political, or economic barriers. I have experienced my music touching people in cultures foreign to me. It is my mission to create music that speaks to the heart, inspires the mind, and raises the spirit. I combine technology and the drum's ability to connect to humanity and create washboard music in the twenty-first century.
- December 2022
Biography
With his project WashboardXT, Newman Taylor Baker is an innovator of the washboard as an acoustic and electronically-enhanced musical instrument. In acknowledgment of visual artist Betye Saar's revolutionary washboard assemblages, WashboardXT transforms a simple tool of drudgery—and a precursor of the drum set—into a powerful, expressive contemporary instrument with a full range of tonal and harmonic capability. Committed to developing the washboard's repertoire, Baker moves the instrument from nineteenth-century Black string band music to today's sound palette, performing in a broad range of artistic genres.
Since 2010, Baker has been developing the washboard body, hardware and software components, sound palettes, notation, terminology, and performance technique, with the goal of encouraging new compositions and a permanent musical place for the washboard. Focusing on the physical instrument, he creates a new acoustic sound for the washboard by dampening the corrugated metal with Gaffer tape, gluing the metal to the wooden frame, and treating the frame with polyurethane. This makes the instrument highly sensitive to touch, thus expanding its expressive language. With the washboard on his lap, Baker uses four 12-gauge expended shotgun shells on each hand to create a clearer, more distinct sound. A contact microphone connected to a multi-effects pedal and an air microphone playing through a preamp both lead to a two-channel amplifier. This allows Baker to create a digital sonic palette with effects such as delay, flange, and reverb, and to use music software such as Ableton Live.
Baker started on the washboard with The Ebony Hillbillies, a New York City-based Black string band, following his career as a drummer performing with composers such as Henry Threadgill, Leroy Jenkins, and Diedre Murray, and his drum set project, Singin' Drums. He has performed in fifty countries, at the Music for Earth Day Festival at Ballroom Marfa, Marfa, TX (2022); Jazzment Klub, Szczecin, Poland, (2021); New York Public Library, New York, NY (2019); Roulette Intermedium, Brooklyn, NY (2018); and Edinburgh Festival Fringe, Edinburgh, Scotland, United Kingdom (2012), among many other venues and festivals. His recordings include World Construct, the sixth CD with The Matthew Shipp Trio (ESP-Disk', 2022), Drum Suite Life (Innova, 2013), The NYFA Collection (Innova, 2011), and more than fifty recordings with other bandleaders. He composed and performed a score for One in 7 (2022), an award-winning short documentary featuring three male domestic abuse survivors in a Texas shelter, produced by Healing Voices - Personal Stories.
He has received New York Foundation for the Arts Fellowships in Music/Sound (2019) and Music Composition (2000), a New Music USA project grant (2018), and a National Endowment for the Arts Fellowship (1971).
Baker studied with Fred Begun, solo timpanist with the National Symphony Orchestra in Washington, D.C. He holds an M.M. in Music Education from East Carolina University and a B.S. in Music Education from Virginia State University, where he studied with Undine Smith Moore, Thomas C. Bridge, and F. Nathaniel Gatlin.