nia love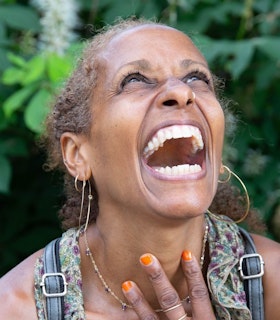 Artist Statement
The center of gravity in my work is the question of blackness and the complexity held within the experiences it names: resistance, virtuosity, breaking, hypermobility, inordinate constraint. I aim to destabilize and dismantle "dance," redressing it as "gesture"—the memory of movement and geography held in the body. The embodied literacies of the African diaspora energize this method of aesthetic practice and frame a way of living. Treating performance as a mode of forging knowledge, this dancing body has been and continues to be a catalyst for social change, transcultural healing practices, and the preservation of ancestral memories.
Thought doesn't just take place in the brain and is not necessarily calculative; every part of the body thinks. I am deeply committed to the way dance operates relationally as a sensory act and a means of collective life, forming inside and alongside flesh. I see dance dissolved in ethereal solutions, a kind of liquid form that solidifies and loses its presence in this entanglement, becoming a vaporous nonlocality. The landscape that I tap into is a way to aerate the smoky (un)clearness of composing the body in space, a way into abstraction that is not abstract at all.
- December 2021
Biography
nia love is a Black, indigenous, American woman, dancer, choreographer, diver, and mother, whose practice is anchored and immersed in maternal care, alchemy of blackness, embodied memory, and "curiosity with the sea." Her approach is unruly and elegiac as she searches for wild, rowdy, and disobedient movement, wringing out the body of all its expressive capacities and building up something else: new scores of space and alternate routes of escape and feeling.
love's serial, multimedia work g1(host):lostatsea (2015-present) investigates the ocean as a site of knowledge and memory, scrutinizing the "afterlife" of slavery and what remains of the Middle Passage as force, gesture, and affect. Continuing this body of work, her project UNDERcurrents had its first iteration at Bryn Mawr College, Bryn Mawr, PA (2021). It explores cosmological scales of the imaginaries of Black world-making and the cultural reverberations of the "door of no return," inviting audiences to probe the seam between catastrophic history and quotidian memory and tend the textures of kinship bonds and generational care. love received a New York Dance and Performance "Bessie" Award for Outstanding Music Composition/Sound Design for g1(host):lostatsea (2020) with her collaborators Antone Roney and Nioka Workman. The 2019 presentation of g1(host):lostatsea - iteration #10 at Gibney Agnes Varis Performing Arts Center, New York, NY, was supported by a Foundation for Contemporary Arts Emergency Grant.
She performs with choreographer and director Liz Lerman and collaborates with Rhonda Haynes, filmmaker, director, and writer of the award-winning documentary film Bringin' in Da Spirit. love continues to perform in project‐based work, including Skeleton Architecture, an acclaimed collective of Black women(+) improvisers with whom she received a New York Dance and Performance "Bessie" Award for Outstanding Performer (2017).
She has participated in residencies and fellowships, including the Dance Program Residency at Bryn Mawr College, Bryn Mawr, PA (2020-2021); the Urban Bush Women Choreographic Fellowship at Maggie Allesee National Center For Choreography, Tallahassee, FL (2019-2020); a Gibney DiP Dance in Process Residency (2019); a New York State Council on the Arts Residency at Movement Research, New York, NY (2016); and the City University of New York Dance Initiative Residency (2016).
Her work has been supported by a MAP Fund Grant for g1(host):lostatsea (2020); a City University of New York Adjunct Incubator Grant (2019); the Surdna Foundation Award (2016); and a New York Live Arts' Suitcase Fund Award (2013-2014).
love is Co-Artistic Advisor of Brooklyn Arts Exchange Artist-In-Residence Program and Artistic Advisor of New York Live Arts' Fresh Tracks Residency & Performance program. She is an adjunct assistant professor at Queens College and the New School's Eugene Lang College of Liberal Arts. love received her B.F.A. in theater directing and B.S. in pre-medicine from Howard University. She holds an M.F.A. in choreography from Florida State University.