NIC Kay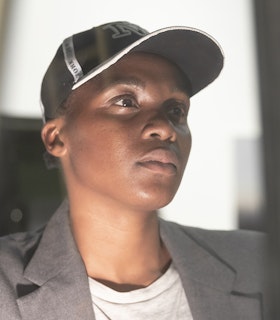 As many have experienced in the performing and performance art universe, everything shifted, my work for 2020 and for the foreseeable future was cancelled, postponed, and has shifted. I spent a considerable amount of time last year fluctuating between states of disbelief, grief, and rejuvenation in both my life and art practice... The gift of $40,000 during this time has been a lifeline. Last year I allocated portions of the funds to the following: Federal Student Loan, IRS, medical expenses, studio rental, and moving costs.
- NIC Kay, January 27, 2021
Artist Statement
I engage in art as a daily practice because I believe in the power of singular and collective transformation through creative exercises that can foster criticality.
This insistence is informed by traditions of Black, Non-Binary, Queer communities who have and continue to utilize art as a mode of remembering and survival.
- December 2019
Biography
NIC Kay began their career as an actor and performer working with playwrights, choreographers, designers, and conceptual artists. The power dynamics embedded in these relationships between 'performer' and 'author' led them to interrogate ways in which they experienced the transformation of people into bodies and bodies into material objects.
In 2010, through movement explorations in nightclubs and on the internet, NIC Kay began to develop a solo practice concerned with performance as mode, material, and theme. Their approaches to space and objects are led by choreographic motivations and they engage with the body with a sculptural eye. NIC Kay is concerned with the process of moving, the change of place, the production of space, and the potential as well as the meaning of shifting perspectives.
NIC Kay's research project GET WELL SOON! culminated in you black + bluised, a triptych of three duets that unfolded over three evenings, focused on the titular phrase used to indicate hope of recovery by using sound, movement, and tableau. GET WELL SOON! received a Foundation for Contemporary Arts Emergency Grant and premiered at Abrons Art Center in 2019. Another work, Sloth-ish: Where Does it Hurt?, presented at MoMA PS1 in 2019, used costumes, performers, set, and sound interchangeably, creating a work that defied conventional definitions of performance and sculpture.
NIC Kay's works have been performed nationally and internationally in spaces including Akademie der Künste, Berlin; Buddies in Bad Times Theatre, Toronto; Encuentro 19, Mexico; Indianapolis Museum of Art; Institute of Contemporary Arts, London; Kampnagel, Hamburg; Portland Institute of Contemporary Art; and University of Arts, Zürich. They have exhibited work at the California College of the Arts; CCA Wattis Institute; Gallery 400, Chicago; and Woman Made Gallery, Chicago. They published their first book, Cotton Dreams, with Candor Arts in 2020.
NIC Kay has participated as an artist in residence at the Center for Book Arts, New York (2020-21), the Lower Manhattan Cultural Council (2018-19), Pioneer Works (2018), and The Museum of Arts and Design (2018). They were a Dance and Process participant at The Kitchen (2018), a Dancing While Black Fellow (2018), a Maggie Allesee National Center for Choreography Forward Dialogues Fellow (2018), and a Movement Research Van Lier Fellow (2017-18).