Nora Chipaumire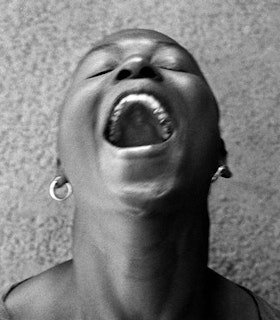 2016 was a phenomenal year of learning, discovering, risk-taking, touring, teaching, and mentoring. I was able to do all of those things in large part because of the FCA award that I received... Traveling, studying, making new work, and performing—this is what an artist dreams of being able to do. The FCA award directly supported these artistic endeavors but also assisted in the practical and necessary, but often overlooked needs for one's quality livelihood.
- Nora Chipaumire, December 17, 2016
Artist Statement
When I discovered "concert dance" I hoped to use it to manifest the avant-garde; (a form that represented the future and released the past). At the time, I was overwhelmed by the idea and expectation (perhaps self inflicted), that an African artist should be responsible for the rich and complicated past, the ancient cultures and rituals, to be embraced by audiences at home and abroad. (I have since developed a process and work that embraces and acknowledges that an African body can be simultaneously avant-garde and guardian of ancient—the intersection of these modes of expressions has helped me create a dynamic and complex (physical) language. I am currently invested in language-building as it is my belief that the language of the body can influence or create economies and engage civic society.
- December 2015
Biography
Nora Chipaumire is a choreographer and performer who uses her choreography to challenge and embrace stereotypes of Africa and the black performing body. Her work critiques colonialism and complicates notions of spectatorship and power. Chipaumire made her directorial debut with Dance for Film on location at Montclair State University in spring 2016.
Chipaumire's work portrait of myself as my father (2016), was a National Performance Network Creation Fund project, co-commissioned by Miami Dade College, in partnership with Miami Light Project, 651 Arts, Columbia College, and Georgia Institute of Technology. portrait of myself as my father premiered at Peak Performances, Alexander Kasser Theater, Montclair in April 2016. She developed this work, which investigates the self, blackness, Africa-ness, and the minimalist African aesthetic, as a Princeton University, Lewis Center for the Arts Hodder Fellow in 2014-2015. It is the companion piece to rite riot (2013), a solo rendering of The Rite of Spring, which was commissioned by French Institute Alliance Française and presented at their Crossing the Line festival in New York and Les Subsistances in France.
Chipaumire's notable premieres include Chimurenga, at ODC Theater, San Francisco (2007); Lions will roar…, at Museum of Contemporary Art, Chicago (2009); visible, at Harlem Stage, New York (2011); Miriam, at Next Wave Festival, Brooklyn Academy of Music Fisher Theater, Brooklyn (2012); The Last Heifer, at PLATFORM 2012 (2012): Parallels, at Danspace Project, New York (2012); and Dark Swan, reconstructed for Urban Bush Women at FOCUS DANCE, The Joyce Theater, New York (2014). After receiving her 2016 Grants to Artists award, Chipaumire traveled to Harare, Zimbabwe to work with the Tumbuka Dance Company, the first and only contemporary dance company in Zimbabwe.
Chipaumire is a three-time New York Dance and Performance "Bessie" Awardee: in 2007 for her body of work with Urban Bush Women, in 2008 for her dance-theater work, Chimurenga, and in 2014 for the revival of her solo Dark Swan. She has also received The Alpert Award in the Arts, Dance (2012) and a Doris Duke Artist Award (2015). Her work has been supported by the MAP Fund, the Jerome Foundation, NYFA B.U.I.L.D., National Dance Project, NYSCA, The Joyce Theater Foundation, and the National Endowment for the Arts.
Chipaumire received an M.A. and an M.F.A. from Mills College, in 2000 and 2002, respectively.