Ohad Meromi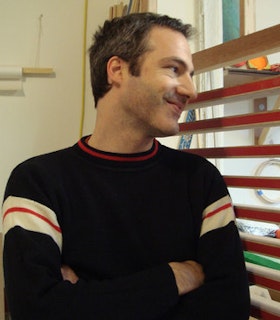 I'm glad to say the grant went to good use, and it enabled me to do work that I would have been unable to do otherwise. In the end of 2007 I had a date for a show, and a set of plans for an installation, but no idea how to finance this work, where to build it, and how to free the time to produce it. Receiving the grant in January made things turn around.
- Ohad Meromi, January 14, 2009
Artist Statement
The term "stage" as a locus of special dynamics is central to my practice in sculpture, installation and video. I'm drawn to the shift a space might undergo from a concrete site to a fictional one. Thought of in the context of the social sphere, I'm interested in this moment of agency, a moment of potent reflexivity where the subject changes its relationship to an oppressive matrix. Thinking of architecture as stage allows me to read modernist space as a fiction, and then to reenact some of its myths: clashes of futurism and primitivism, international style and ethnic folklore, totalitarianism and utopic positivism.
- December 2007
Biography
Ohad Meromi combines performance art, large-scale sculpture, and set and costume design in his work. He often creates an overarching architectural structure that can serve as a set for performances that become part of his installations. He invokes a utopian, modernist spirit and explores concepts of collaboration, improvisation, and community.
Before receiving his 2008 Grants to Artists award, Meromi's work was the subject of solo exhibitions at Spring Gallery, Philadelphia (1998); Harris Lieberman Gallery, New York (2005); and MoMA PS1 (2006); and in Israel at The Israel Museum (1995), Dvir Gallery (1996), and Tal Esther Gallery (2004). He participated in the group exhibition Un-certain States of America (2005-2008), which originated at the Astrup Fearnley Museum of Modern Art in Oslo and traveled to The Czech Republic, China, Iceland, London, New York, Poland, and Russia. His work has also been shown in group exhibitions at Guild and Greyshkul Gallery (2005), Martin Gropius Bau (2005), Gavin Brown Enterprise @ Passerby (2007), and Wallspace Gallery (2007).
Meromi's 2008 Grants to Artists award funded the materials, studio rental, and equipment necessary for him to produce the installation Who Owns the World?, which was presented at Harris Lieberman Gallery (2008), and later at Country Club, Cincinatti (2008). Since receiving his 2008 FCA grant, Meromi has had solo exhibitions at Art in General (2010); Gordon Gallery, Tel Aviv (2010); and Gallery Diet, Miami (2012). In 2012 Meromi exhibited Stepanova, a large modular sculpture, as part of the exhibition A Promise is a Cloud, presented by the Public Art Fund. In 2014, Meromi presented his video Worker! Actor! Smoker! in a solo exhibition of the same name at Nathalie Karg Gallery. He has also been included group exhibitions subsequent to his 2008 Grants to Artists award, at Momenta Art (2010), The Jewish Museum (2013), and Sculpture Center (2015).
Prior to his 2008 FCA grant, Meromi received a Sharet Scholarship from The America-Israel Cultural Foundation (1991), The Mary Fisher Award from Bezalel Academy of Art and Design, Jerusalem (1992), the Nathan Gottesdiener Foundation Israeli Art Prize (1998), The Israeli Minister of Culture Award (2002), a Cultural Ministry Award from Tel Aviv Museum of Art (2002), the Hadasa and Refael Klachkin Award from the America Israel Cultural Foundation (2002), The Chosen Artist of I.C. Excellence Foundation (2003-2004), and a grant from The Israeli Fund for Video Art and Experimental Cinema (2007).
In 1992 Meromi graduated from the Bezalel Academy of Art and Design in Jerusalem. He later received his M.F.A. from Columbia University School of The Arts in 2004. Meromi has been a faculty member at Bard College since 2008, was a guest lecturer at the Bezalel Academy of Arts and Design in 2012, and was a visiting artist at Sarah Lawrence College from 2012 to 2013.