Okwui Okpokwasili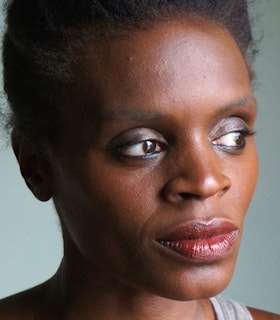 … As I consider how I spent the money, it was all pretty mundane. It became all things––a year-long miscellaneous fund. As I look back on the year, what didn't it cover? I used it for everything, from taking care of the absolutely mundane but vital personal needs (rent, dental coverage, repairing my default status on my student loans) to providing supplementary funds touring my work and giving me the time to begin conceiving a new piece... this grant was an incredible boon and sustained my art practice, my family, and let me have some peace of mind over the year.
- Okwui Okpokwasili, December 10, 2014
Artist Statement
I'm interested in stories as markers of presence, of absence, of perspective, of inclusion, and of exclusion. A story can make a slight indentation in a communal consciousness. But how is a story carried—in the body, between bodies? I'm interested in a story that leaks out of the body and signals the psychic and fraying seams of the person telling it. Live performance is a unique opportunity for a physiological and psychic exchange between the watcher and the performer and the simultaneous transmission of the "story." There is, in the best circumstance, an enveloping, intangible skin that winds around both performer and audience, ensnaring, mesmerizing, appalling and enlivening.
I write text and develop a physical language for the characters, an external manifestation of an interior psychic condition. Within the narrative there is a point of view or a persona that becomes the primary focus in constructing a movement vocabulary. I want to root out a deeply personal and very specific reverberating body. Bronx Gothic (2014) is my exploration of a body emerging through cracks and fissures, my attempt at reliving the feeling of being in the pubescent body within a narrative of sexual awakenings and exploits in the Bronx.
- December 2013
Biography
Okwui Okpokwasili is a writer, performer, and choreographer. In partnership with collaborator Peter Born, Okpokwasili creates multidisciplinary projects that are raw, intimate experiences. As a performer, Okpokwasili frequently collaborates with director and choreographer Ralph Lemon, including Come Home, Charley Patton (2006), for which she won a "Bessie" Award for Outstanding Performer; How Can You Stay in the House All Day and Not Go Anywhere? (2010), a duet performed at the Museum of Modern Art as part of On Line: Drawing Through the Twentieth Century (2011), and Scaffold Room (2014). Okpokwasili has appeared as an actor in many productions including Richard Maxwell's Cowboys and Indians (1999), Richard Foreman's Maria del Bosco (2001), Kristin Marting's Sounding (2009), Joan Dark (2009), Young Jean Lee's Lear (2010), Nora Chipaumire's Miriam (2012), and Julie Taymor's A Midsummer Night's Dream (2013). Film credits include The Interpreter (2005), The Hoax (2006), I Am Legend (2007), Knut Åsdam's Abyss (2010), and Malorie's Final Score (2013).
Okpokwasili's pent up: a revenge dance (2008) premiered at Performance Space 122 and received a 2010 New York Dance and Performance "Bessie" Award for Outstanding Production. An immersive installation version of the work was featured in the 2008 Prelude Festival. Her FCA-supported Bronx Gothic received a 2014 "Bessie" Award for Outstanding Production, and continues to tour nationally and internationally. An early iteration of FCA-supported Poor People's TV Room was presented by the Lincoln Center in the David Rubinstein Atrium in 2014.
Prior to her 2014 Grants to Artists award, Okpokwasili received awards from The French American Cultural Exchange, a Maggie Allesee National Center for Choreography Choreographic Fellowship (2012), a New York Foundation for the Arts' Fellowship in Choreography (2013), and was an artist-in-residence at the Baryshnikov Arts Center. Okpokwasili received her B.A. from Yale University in 1996.