Patricia Spears Jones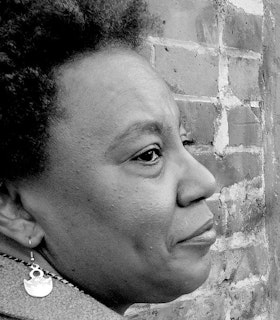 ... more than money, which was great, the award gave me something that I have rarely received during my life and work in New York City: recognition by major artists and thinkers.
- Patricia Spears Jones, February 18, 1998
Artist Statement
A friend said to me, "the poetry world is so vicious." I instantly thought of that Lou Reed song from "Transformer"—that is how my mind works. Seemingly random items are often intimately connected by the mind and those connections can be found in my poetry. I am intensely concerned with my relationships to men and women; land and buildings; the current environment; this nation's ideals and its major shortcomings; fantasies and harsh realities, ambition and failure. My poetry, as can be seen in my three published collections and chapbooks written over 30 years, meditates on erotic possibility and physical and emotional threat framed by responses to historical and contemporary social and political change, and to mortality, itself. Also, I try to write poems and commentary that critique power and privilege—growing up Black, female, southern, and poor allows me a certain perspective. I am keenly aware of how class as well as race hinder or spur creativity, especially in the American context. And I am very concerned with the creators, activists, interrogators, and comedians who challenge the status quo, which is why I love experimental theater and performance art. I am concerned with deepening the value of my commitments to social justice and aesthetic experimentation in my poetry, and how those concerns may share both rage and whimsy. I am seeking new ways to record a life in art and learning.
As I grow older, I get bolder. Or maybe that's what we all think. I started out as a young lyric poet who suddenly found herself in the midst of the second wave of New York School writing in the early 1970s. St. Mark's Poetry Project was mostly White and male. As a young Black woman, I wasn't the expected bohemian. So what did I do? I signed up for Lewis Warsh's poetry workshop at the Project. I later studied with Honor Moore in her women's writing workshop—I have always sought different perspectives. The city became my own personal university: poetry readings, protest meetings, art galleries, museums, jazz lofts, and movie theaters were my classrooms. And I found in the Black Arts Movement, especially via the Umbra Workshop alumni such as David Henderson and Ishmael Reed, and in cultural feminism—through June Jordan, Audre Lorde, Adrienne Rich, and Susan Sherman—powerful critiques of American hegemony that added to the experimentation and energy found at The Poetry Project. Those experiences nourished my writing—allowing me to fail and succeed by experimenting until I found lines that can be narrative, meditative, lyric, or all three, if that is what the poem wants to be. I grew up as a poet in the swagger and shine of this volatile city. I became a "city poet" emboldened by my desire to learn, struggle, and create out of a "self" shaped by my small town, rural Arkansas roots, in dialogue with America's greatest city, as one century ended and another began.
- 2014
Biography
Patricia Spears Jones was the first African American programmer as Program Coordinator at The Poetry Project at St. Mark's Church (1984-1986), where two decades later she served as a mentor for Emerge, Surface, Be, a new fellowship program. She ran the esteemed New Works Program for the Massachusetts Council of Arts and Humanities (1989-1991) and was Director of Planning and Development at The New Museum of Contemporary Art (1994-1996). She is also actively involved in a variety of formal and informal organizations involved with progressive politics, social justice, feminism, the environment, and multi-culturalism, best seen in her appointment as Senior Fellow for The Black Earth Institute (2008-2012).
Spears Jones is author of three collections of poetry, including Painkiller (2010), four chapbooks including Living in the Love Economy (2014), and two plays commissioned and produced by Mabou Mines. Her poems are anthologized in Best American Poetry: 2000, broken land: Poems of Brooklyn (2007), the bilingual anthology, Mujeres a los remos/Women rowing: An Anthology of Contemporary US Women Poets (2012), and Angles of Ascent: A Norton Anthology of Contemporary African American Poetry (2013), among others. She is editor of, and contributor to, Ordinary Women: An Anthology of Poetry by New York City Women (1978), and Think: Poems for Aretha Franklin's Inauguration Day Hat (2009). Spears Jones is also a contributing editor to BOMB Magazine. Her new collection, A Lucent Fire: New and Selected Poems is set for publication in the fall of 2015.
Following her 1996 FCPA-support, Spears Jones received a fellowship from the New York Foundation for the Arts (2003), received The Oscar Williams and Gene Derwood Award from The New York Community Trust (2012), was presented with the Black Students Association's Distinguished Alumni Award at Rhodes College (2013), and was the winner of the Jackson Poetry Prize (2017). Previous to receiving her 1996 Grants to Artists award, Spears Jones was the recipient of a National Endowment for the Arts Poetry Fellowship (1994), and two New York Foundation for the Arts Fellowships (1986,1993). Spears Jones has been a guest blogger for The Poetry Foundation, the Poetry Society of America, and the Tidal Basin Review. She has presented or performed at venues around the nation including Association of Writers and Writing Programs Conference, St. Mark's Poetry Project, Poets House, the University of New Hampshire, Gwendolyn Brooks Conference at Chicago State University, the Devils Kitchen Festival at Southern Illinois University, Columbia College, The Poetry Center, Stony Brook University, Naropa University, California College of the Arts, and the Arkansas Literary Festival.
Spears Jones received her B.A. from Rhodes College in 1973 and her M.F.A. from Vermont College in 1992. She has taught at LaGuardia Community College, Queens College, Parsons, The New School for Design, and The College of New Rochelle.