Paul Beatty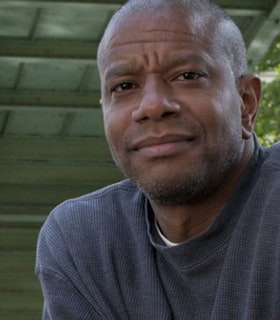 The grant provided me with the cognitive space, temporary economic manumission, and time to start work on a novel [The White Boy Shuffle] I've been thinking about for eight years.
- Paul Beatty, December 8, 1994
Biography
Paul Beatty is a poet, author, and editor.
A regular presence on the early slam poetry scene at the Nuyorican Poet's Café, Beatty is the author of two volumes of poetry, Big Bank Take Little Bank (1991), selected by the Village Voice as one of the best books of 1991; and Joker, Joker, Deuce (1994). His first novel, FCPA-supported The White Boy Shuffle (2001), is a multicultural epic and coming-of-age story that satirically tackles issues of race, gender, and sexuality. His other two novels, Slumberland (2009) and Tuff (2011), similarly explore the African-American urban experience.
Beatty's fourth novel, The Sellout (2015) was named the winner of the 2016 Man Booker Prize for Fiction.
Beatty is also the editor of Hokum: An Anthology of African-American Humor (2006). He received an M.A. in Psychology from Boston University and an M.F.A. in Creative Writing from Brooklyn College, where he studied with Allen Ginsberg.