Paul Etienne Lincoln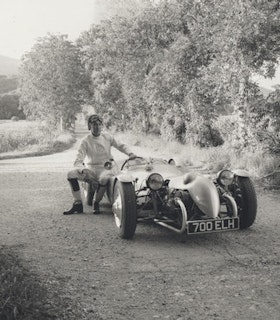 [Receiving the grant] soaked in after a few days and on depositing the check, the realization took hold… I have had an incredible year my spirits are so positive I feel I want to continue to work as long as I can, and I think some of the opportunities I took last year which perhaps I might have missed if I had not been in this position, might well pay off and allow me to further my work.
- Paul Etienne Lincoln, January 2010
Artist Statement
I have been working predominantly with scientific and mechanically based material for the past thirty years. Most of my previous works have involved complex combinations of chemical, mechanical, and electrical activity to address ideas derived from literature, history, and music.
The works, often installations, are based on extensive research and a detailed response to a specific historical circumstance, either an individual or an event. Long periods of time are needed to conceptualize and meticulously construct these projects, all of which I do myself. As an example, In Tribute to Madame de Pompadour and the Court of Louis XV, 1982-1991, was a nine-year project from initiation to completion. The extended gestation of the works provides me with the opportunity to consider at length, a process which I feel contributes enormously to the works' complexity and richness.
A current project is New York-New York, 1987-present, a portrait of the technological history of New York City in the middle half of the twentieth century, manifested as a twenty-four-part installation. This project, constructed over the past twenty-one years, is a complex system of mechanical elements, representing key industrial breakthroughs which have shaped the urban culture.
- December 2008
Biography
Since 1980, Paul Etienne Lincoln has created elaborate installations of allegorical machines that are inspired by circumstances as varied as the court of Louis XV at Versailles to the sounds and financial structure of New York City. His installations, which can be produced over a period as long as a decade, are often predicated upon a literary or historical figure.
With the support of his 2009 FCA grant funds, Lincoln created Bad Bentheim Schwein, an installation and performance inspired by the grounds at a twelfth-century German castle. The installation is comprised of an acorn-shaped folly that sits on a small island in the German castle's lake. In performance, Lincoln, or a "pig-keeper" dressed in bright red coat tails, feeds the pewter pig an acorn and pulls on its different parts as the pig sings. He reveals the intricate tubes inside and cranks the pig's tail until a golden acorn comes out of the pig's rear end. The gilded acorn represents the conquest of formal gardens over natural and wild conditions. Lincoln's proposal for the city of Paris, Bonbon Copernican Cabouchon, was also supported by his 2009 Grants to Artists award. The bonbon machine collects data from individual Parisians, hooked up to the machine, and creates unique, multi-layered, spherical bonbons.
Since receiving his 2009 Grants to Artists award, solo exhibitions of Lincoln's work have been held at Galerie Hubert Winter, Vienna (2007); Guido Costa Projects, Turin (2008); Alexander and Bonin (2008); and South London Gallery (2011). Lincoln has shown work in group exhibitions at Walker Art Center (2009); ACC Galerie, Weimar (2010-2011); and Sean Kelly Gallery (2013); among others.
Prior to his 2009 Grants to Artists award, Lincoln's work work was featured in solo exhibitions at Kettles Yard, Cambridge, United Kingdom (1985); Henry Moore Institute, Leeds, United Kingdom (1999); Alexander and Bonin, New York (2000, 2004); Christine Burgin Gallery, New York (2000, 2006); and Hamburger Bahnhof, Berlin (2003); and in group exhibitions at Institute of Contemporary Art, London (1981); Institute of Contemporary Art/Boston (1992); MoMA PS1 (2000); Queens Museum of Art (2001); Nasher Museum of Art, Duke University (2005); and The Museum of Modern Art (2006).
Subsequent to his 2009 Grants to Artists award, Lincoln received a John Simon Guggenheim Memorial Foundation Grant (2009). Prior to receiving his 2009 FCA grant Lincoln was awarded an American Center Foundation Grant (2003), a Penny McCall Foundation Grant (2004), and a Peter Reed Foundation Grant (2007).
Lincoln holds a B.A. from the Royal College of Art and an M.A. from the Maidstone College of Art, both in England.