Paul Kaiser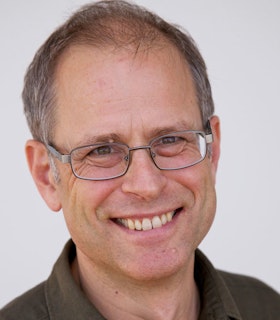 The award allowed me to push forward into territory otherwise largely unfunded: a deep consideration of written text.
- Paul Kaiser, January 12, 2008
Artist Statement
My work arises from the years I spent teaching students with severe learning disabilities in the 1980s, with whom I made multimedia depictions of their own minds. It was from working with these students that I derived two key ideas— mental space and drawing as performance—which became the points of departure for much of the work I have pursued since then. What fascinates me above all is the awareness of consciousness: my own and that of others.
It was from these students that I also learned the value of collaboration, a practice central to my work ever since. Much of my work would be inconceivable without my current colleague Marc Downie (with me at OpenEndedGroup) as well as with Shelley Eshkar, with whom I worked for many years. I've also enjoyed extraordinary collaborations with various choreographers (Merce Cunningham, Bill T. Jones, Trisha Brown, Wayne McGregor).
Recent work has centered on non-photorealistic 3D projection, which seems to have the viewers' eyes touching the imagery as much as seeing it; on a new form of visual documentary, which dispenses with talking heads and scrutinizes imagery derived both from cameras as well as from other data probes; and on a new form of writing and interrelating texts for a work-in-progress called Among Others.
- December 2014
Biography
Paul Kaiser is a digital artist, filmmaker, and writer. With Shelley Eshkar and his OpenEndedGroup colleague Marc Downie, Kaiser has created works that span a wide range of forms and disciplines, including 3-D film, dance, installation, music, and public art. Outside collaborators in the performing arts have included Robert Wilson, Merce Cunningham, Bill T. Jones, Trisha Brown, the Flux Quartet, and Wayne McGregor.
In 1998, Kaiser and Shelley Eshkar received a Grants to Artists award for their work as Riverbed Media. As Riverbed Media, Kaiser and Eshkar created the FCPA-supported work, Biped (1999), for the Merce Cunningham Dance Company, and provided the visual décor for the dance of the same name. With FCPA support, the duo also created the graphics for Bill T. Jones's Ghostcatching (1999). Kaiser's works with Eshkar following their 1998 Grants to Artists award include Trace (2001) at the Next Wave Festival at the Brooklyn Academy of Music and Pedestrian (2002), a site-specific public art installation presented simultaneously at four locations in New York City.
Since Kaiser received his John Cage Award in 2008, he has created works with Downie and Eshkar, including Recovered Light, York Minster, England (2009); Loops, Lincoln Center Film Society (2001-2011); After Ghostcatching, SITE Santa Fe Biennial (2010, 2011); Stairwell, Hayward Gallery, London (2010); Into the Forest, Museum of the Moving Image (2010); Twice through the heart, Sadler's Wells (2010); Drawn together, Georgia Institute of Technology (2012), plant (2012); Waves, Rome Film Festival (2012); Knight's Rest, Isabella Stewart Gardner Museum (2013); and All Day, The Museum of Modern Art (2014).
Since receiving his 2008 John Cage Award, Kaiser has held residencies at Rensselaer Polytechnic Institute (2009-2010), Georgia Institute of Technology (2011-2012), The New School (2012), the Isabella Stewart Gardner Museum (2012-ongoing), and the Arts and Humanities Departments at University of Michigan (2011-2013). Prior to his 2008 FCA grant, Kaiser held university residencies in the Computer Music Department at Columbia University (2001-2003); the Dance Department at University of California, Irvine (2001); Institute for the Arts at Arizona State University (2002-2005); and art and research residencies at Cooper Union (1998), MASS MoCA (1999), and Massachusetts Institute of Technology Media Lab (2001). In 1996, Kaiser was the first digital artist to receive a John Simon Guggenheim Memorial Fellowship.
Kaiser received a B.A. from Wesleyan University in 1978 and an M.Edu. in Special Education from American University in 1984. Kaiser has been a guest lecturer at Wesleyan University, Columbia University, Harvard University, and Le Fresnoy in Lille, France; he was an Adjunct Professor at San Francisco State University.