Paul Sietsema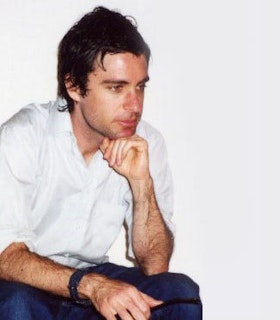 Artist Statement
Empire really evolved over a four-year period in which I created and lived in a sort of landscape of books, images, histories, etc. I suppose part of the idea was to use the landscape as the material of the piece. I had been interested in the idea that the purpose of an artwork is not to transmit information or meaning, but is rather to mediate or pattern information or meaning in a way that matches its cultural and temporal context. Creating a world out of images, books, ideas, histories allowed me to sort of mainline this, to construct a sort of boiled-down version or model, based on the sort of pre-packaged information different types of media provide. I ended up combining many patterns of information or meaning relating to specific histories, images, and bodies of knowledge to create a new structure based on the nature of their combination. In doing so I think an environment was created in which linear time was unimportant.
- 2003
Biography
Paul Sietsema uses photographs and other objects that reference specific bodies of knowledge as starting points for his carefully crafted drawings and sculptures, which he then films. His films arrange and compare the original images and objects—and the ideas, information and knowledge associated with them—in ways that combine with the artist's practice of working in different media at each stage of his projects to explore how imagery and material affect our understanding of culture and history.
During his 2002 Grants to Artists award period, Sietsema completed Empire, a 16mm film that is screened as a looped projection, and exhibited it at the Whitney Museum of American Art. For Empire, Sietsema created and filmed models of interiors, including one based on the art critic Clement Greenberg's living room.
Since receiving his 2002 FCPA grant, Sietsema has had solo exhibitions at the Museum of Contemporary Art in Chicago, the Wexner Center for the Arts in Columbus, the Kunsthalle Basel, the Museo Nacional Centro de Arte Reina Sofía in Madrid, the Museum of Modern Art in New York, and the San Francisco Museum of Modern Art. Monographs on Sietsema's work have been published by the Kunsthalle Basel, the Wexner Center for the Arts, The Museum of Modern Art, and the Whitney Museum of American Art. An artist's book focusing on the film At the hour of tea was published in 2014 by Rite Editions in San Francisco and Sternberg Press in Berlin. In 2015, Seven Films by Paul Sietsema, about Sietsema's films from the past twelve years, was published by Mousse Publishing in Milan.
Subsequent to the 2002 Grants to Artists award, Sietsema was awarded a 2005 John Simon Guggenheim Memorial Foundation Fellowship, a Wexner Center Residency Award in 2010, and he was a DAAD Berlin Artist-in-Residence in 2008. Sietsema is represented by Matthew Marks Gallery.
The artist earned his B.A. from University of California, Berkeley in 1992 and his M.F.A. from University of California, Los Angeles in 1999.