Pauline Oliveros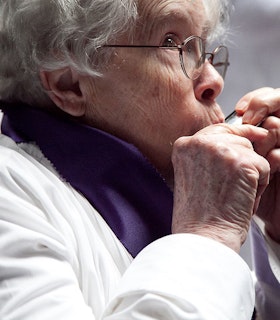 The [Grants to Artists] award has sustained me this year and enabled me to work on my book The Roots of the Moment…I have also continued my work on the Expanded Instrument System (EIS) which had seed money from the Foundation from a few years ago…This has truly been a marvelous year for me." (In 1990, Oliveros was granted $5,000 in support of an interactive performance system for expanding acoustic instruments in performance.)
- Pauline Oliveros, November 15, 1995
Artist Statement
My concern is to expand my consciousness through my listening. My music comes out of my listening, keeps me fascinated with sounds and places. Most recently I composed Tower Ring for Ann Hamilton's Tower, situated on the Oliver Ranch in Sonoma County, CA. She created the eight-story Tower for the performance. I listened to the Tower and it called for a large gong, many voices and instruments.
The gong was suspended from the top of the Tower and could rise from the bottom reflecting pool to the open-air top. The gong became the conductor of the eight sections of the piece. Each section began with the Tower-enhanced sound of the gong with a new quality at each new level and a different instrumentalist at each level. The chorus also moved from a cluster at the bottom level to a line stretching four levels then eight levels around the double helix stairway and finally to a cluster at the top singing into the open air. Gong and chorus descended together for the ending with the chorus quality changing dramatically from the open air to the acoustical reflections within the Tower-a great swelling of sound and feeling.
Each performance space is a listening challenge. The listening informs the music to be made so that space/time and music interact, interchange and open new relationships between audience, performers and music. Through listening inclusively as well as exclusively in balance I hope to expand the range of my consciousness in music and in life.
- December 2011
Biography
Pauline Oliveros's career as a composer and accordionist spanned over 50 years. Since the 1960s, her work has been concerned with improvisation, meditation, electronic music, myth, and ritual. She was the founder of "Deep Listening," which comes from her childhood fascination with sounds and from her works in concert music with composition, improvisation, and electro-acoustics. According to Oliveros, "Deep Listening" is a way of listening in every possible way to everything possible to hear—the sounds of daily life, of nature, of one's own thoughts, as well as musical sounds.
In 1994, Oliveros received a Grants to Artists award. With the funds from her FCA support, Oliveros was able to work on her book The Roots of the Moment (1998), and continue her work on the Expanded Instrument System (EIS) which she began work on when she received $5,000 in support from FCPA in 1990. Oliveros' Expanded Instrument System is an interactive performance system for expanding acoustic instruments in performance.
Oliveros's works have been performed across the world and she has been widely commissioned by individual artists and ensembles. Selected venues that have presented her work are: The Museum of Modern Art, Yerba Buena Center for the Arts, The Knitting Factory, Carnegie Hall, Lincoln Center, California Institute for the Arts, The Kitchen, La MaMa E.T.C, Roulette, Merkin Concert Hall, Headlands Center for the Arts, John F. Kennedy Center, Bard College, and Queen Elizabeth Hall, London. Oliveros authored of eleven books of writings about music as well as many journal articles.
Following her 1994 Grants to Artists, Oliveros received a SEAMUS Award for Lifetime Achievement for Pioneering Work in Electro Acoustic Music (1999), the Nameless Sound Award (2006), the William Schuman Award for Lifetime Achievement from Columbia University (2009), and a Paul Fleck Fellowship at the Banff Centre (2009). Following her 2012 John Cage Award, Oliveros received a Giga-Hertz-Award for Lifetime Achievement in Electronic Music from ZKM, Center for Art and Media (2012), Karlsruhe, Germany; an Award for Artistic Excellence and Innovation from the Arts Society of Kingston (2013); an Ulster County Executive's Arts Award for Individual Artist (2015); and a Civitella Ranieri Music Fellowship (2015).
Prior to her FCA support, Oliveros received a 1960 Pacifica Foundation Prize for Variations for Sextet (1960), a John Simon Guggenheim Memorial Foundation Fellowship (1973), a Beethoven Prize from the City of Bonn (1977), National Endowment for the Arts Fellowships (1984, 1988, 1990), a New York Dance and Performance "Bessie" Award for Music Composition for Contenders (1991), and ASCAP Standard Awards (1982-2005).
Oliveros held Honorary Doctorates in Music from the University of Maryland Baltimore County, Mills College, Oakland, California; and DeMontfor University, Leicester, U. K. She founded the Center For Deep Listening at Rensselaer Polytechnic Institute, Troy, NY (formerly known as the Deep Listening Institute or the Pauline Oliveros Foundation.) Oliveros was a frequent lecturer at universities in the U.S. and Europe and was a Professor of Music from 1967 to 1981 at the University of California, San Diego. She was Distinguished Research Professor of Music at Rensselaer Polytechnic Institute and Darius Milhaud Artist-in-Residence at Mills College.