Nature Theater of Oklahoma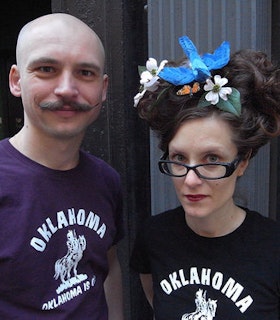 I can still remember sitting in a hotel room with my partner Kelly in Trondheim, Norway, and receiving the information about the award after a very long day in the theater—at the end of a long time away from home—to hear that out of the blue someone had chosen to give us $25,000 in unrestricted funding for the work we were doing was deeply appreciated.
- Pavol Liska, November 24, 2010
Artist Statement
SincePoetics: a ballet brut, our first dance piece created as an ensemble, Nature Theater of Oklahoma has been devoted to making the work we don't know how to make, putting ourselves in impossible situations and working from our own ignorance and unease. We strive to create an unsettling live situation that demands total presence from everyone in the room. We use the readymade material around us, found space, overheard speech and observed gesture, and through extreme formal manipulation and superhuman effort, we affect in our work a shift in the perception of everyday reality that extends beyond the site of performance and into the world in which we live.
- December 2014
Biography
Pavol Liska and Kelly Copper began collaborating in 1997 and together they founded the theater company Nature Theater of Oklahoma in 2006. The company is committed to "making the work they don't know how to make," an approach yielding new amalgams of opera, dance, and theater, combined with popular culture and humor.
Their Life and Times series—the life story of one thirty-something woman revealed over ten episodes, including FCA-supported Life and Times: Episode 2 (2010)—has transformed a series of meticulously transcribed phone conversations into songs, dances, a murder mystery, and more. Life and Times: Episode 2 premiered in 2010 at Burgtheater Kasino, Vienna and toured throughout Europe, Australia, and the United States.
The company has been commissioned by theaters and festivals around the world, including Soho Repertory Theater, Burgtheater Wien, Vienna; Festival d'Avignon, Avignon, France; the Wexner Center for the Arts, and Salzburger Festspiele. Their first feature length film, Das Große Nature Theater of Oklahoma ruft Euch! (The Great Nature Theater of Oklahoma is Calling You!) premiered July 2014 in Berlin and received its New York premiere in September 2014 as part of French Institute Alliance Française's Crossing the Line Festival.
Following their FCA support, Copper and Liska received a Doris Duke Performing Artists Award (2013) and an Alpert Award in Theater (2013). Prior to their 2010 Grants to Artists award, Copper and Liska received a Rockefeller MAP Fund Award (2007), an OBIE Award Special Citation for No Dice (2008), and a Salzburg Festival Young Directors Prize for Romeo and Juliet (2008).
Copper earned a B.A. from Dartmouth College in 1993 and an M.F.A. from Brooklyn College in 2007. Liska also earned a B.A. from Dartmouth College in 1995 and an M.F.A. from Columbia University in 2005. They also are the hosts of OK Radio, a series of free podcasts featuring long-form conversations with artists, curators, and instigators.