Phill Niblock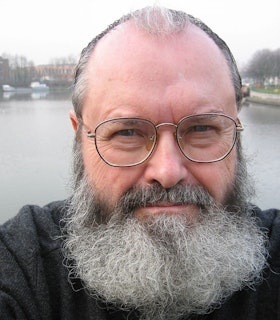 My goal, in recent years, is to stabilize and digitize my archive of film materials, slides, photographs, and music, both recorded elements and scores. This work… makes up a large part of the expenditure of the funds… I also made twelve new pieces of music… I made fifty concerts and events, including a three-hour concert at Centre Pompidou…
- Phill Niblock, December 17, 2014
Artist Statement
I am an intermedia artist using music, film, photography, video, and computers. I began taking photographs in 1960, making film in 1965, composing music in 1968, and shooting video in the 1980s. My intermedia work addresses technical and aesthetic issues in four artistic disciplines that combine at various levels and diverge at others. My multi-layered installations and performances present simultaneous events in film and music, slides, photographs, video, and computer-controlled installations.
I am the producer of music and intermedia presentations at Experimental Intermedia (since 1973, about 1000 performances) and the curator of EI's XI Records label. In 1993, I was part of the formation of an Experimental Intermedia organization in Ghent, Belgium--EI v.z.w. Ghent––which supports an artist-in-residence house and installations. My music is available on the XI, Moikai, Mode and Touch labels. A DVD of films and music is available on the Extreme label, and others on the Atavistic and Die Schachtel labels.
"(He) has produced, over more than fifty years, a multidisciplinary work. His 'Intermedia Art' features a combination of minimalist music, conceptual art, structural cinema, systematic, or even political art, and has actively contributed to transform our perception and experience of time."
- Mathieu Copeland
- December 2013
Biography
Phill Niblock is a composer, filmmaker, videographer, and director of Experimental Intermedia, a foundation for avant-garde music based in New York and Ghent, Belgium. Niblock's musical compositions feature microtones of instrumental timbres, which generate other tones within the performance space. He presents these compositions alongside abstract films and videos.
Since the mid-1960s, Niblock's music and intermedia performances have been presented at venues across the world, including The Museum of Modern Art, Roulette, the Wadsworth Athenaeum, The Kitchen, the Festival d'Automne à Paris, the Pompidou Center in Paris, Eyebeam, Palais des Beaux Arts in Brussels, Institute of Contemporary Art London, Akademie der Kunste in Berlin, the Carpenter Center for the Visual Arts at Harvard, and the World Music Institute at Merkin Concert Hall in New York. He has collaborated with a number of artists including Susan Stenger, Robert Poss, Jim O'Rourke, Ulrich Krieger, Seth Josel, Petr Kotik, and Tom Buckner. Niblock's music is available on the XI, Moikai, Mode and Touch labels.
Niblock has received grants from Massachussetts Council on the Arts, Phaedrus Foundation, New York State Council on the Arts, New York Foundation for the Arts, Creative Artists Public Service Program, Meet the Composer, and the Research Foundation of the City University of New York. He was a 1978 John Simon Guggenheim Memorial Foundation Fellow. Niblock received a Grants to Artists award in 1994. He received FCA's biennial John Cage Award, a $50,000 lifetime achievement award, in 2014.
Niblock has been an artist and member of Experimental Intermedia since 1968 and its Director since 1985. He is the producer of over 1,000 music and intermedia presentations at Experimental Intermedia since 1973. He also serves as the curator of Experimental Intermedia's XI Records label and co-founded its branch in Ghent, Belgium, EI v.z.w. Gent. He received his B.A. from Indiana University and was a Professor of Film, Video, and Photography at the College of Staten Island from 1971-1998. Niblock continues to perform around the world.