Pope.L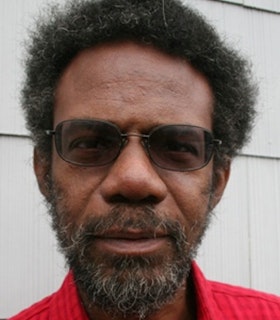 The Black Factory is a mobile art performance installation whose mission is to take blackness into the jungle which is the heartland to where it is needed most and by doing some accomplish the work only difference can satisfy.
- Pope.L, FCPA-Supported Project Description, January 2003
Artist Statement
Xxx xx xxxxxx Xxx xx xxx xxxxx x xxxx xx
xxxx. X xxxxx. Xxxxxxxxxxxx xx xx xx xx xxxxx xxxxxxx xx xxxxx xx xx xxx xxx xxxx
Xx. Xxx.
- 2014
Biography
Pope.L is a visual and performance-theater artist and educator who makes culture out of contraries. He has been making multidisciplinary works since the 1970s, and has exhibited internationally, including New York, London, Los Angeles, Vienna, Montreal, Berlin, Zurich, and Tokyo.
Pope.L has enacted a series of Crawl Pieces over more than thirty years, in which he crawls along the streets of New York City to materially relate to homelessness and highlight issues of racism and inequality. With funds from his 2002 Grants to Artists award, Pope.L worked on what was to become The Black Factory. Pope.L and his team traveled across the United States on The Black Factory truck, staging a performative dialogue on what the artist terms "blackness." They gathered materials from each of the communities they engaged that were considered representative of "blackness." The materials, as well as written and visual documentation, were assumed into The Black Factory archives.
Since his 2002 FCPA grant, Pope.L has been active as an artist. He participated in the New Museum's 2010-2011 exhibition The Last Newspaper with a reenactment of his 2000 Eating the Wall Street Journal performance in which he consumes and excretes the newspaper over a toilet. In 2011, The Museum of Modern Art invited Pope.L to participate in their FluxKit project. In 2013, he created the performance/film project A Long White Cloud at Te Tuhi in Auckland, New Zealand. In the same year he presented the solo exhibitions Colored People Waiting Room at Mitchell-Innes & Nash and Forlesen at The Renaissance Society at the University of Chicago. His work was presented as part of the 2014 exhibitions Ruffneck Constructivists at the University of Pennsylvania's Institute of Contemporary Art and Radical Presence: Black Performance in Contemporary Art at Walker Art Center and The Studio Museum in Harlem. His work was included in the 2013 group exhibition Blues for Smoke at the Whitney Museum of American Art, which then traveled to Contemporary Arts Museum Houston, Wexner Center for the Arts, and The Geffen Contemporary at MOCA, Los Angeles. In 2015, The Geffen Contemporary at MOCA presented William Pope.L: Trinket, an exhibition of his new and recent work. Pope.L is represented by Mitchell-Innes & Nash.
Subsequent to his 2002 FCPA grant, Pope.L was honored with a John Simon Guggenheim Memorial Foundation Fellowship (2004), a United States Artists Rockefeller Fellowship (2006), a Louis Comfort Tiffany Foundation Award (2008), and a Joyce Foundation Award (2012) to create Pull!, a large scale public project presented through Spaces Gallery in Cleveland. Pope.L is a featured artist in the books Intersection (2008) edited by Marci Nelligan and Nicole Mauro, and Darby English's How to See a Work of Art in Total Darkness (2007). In February 2015 Pope.L's The Black Factory archives were acquired by The Museum of Modern Art. Prior to his 2002 Grants to Artists award, Pope.L had received several National Endowment for the Arts Fellowships (1993, 1994, 1995), a Franklin Furnace Fund for Performance Art grant (2000), a Creative Capital Artist Project grant (2001), a Japan—United States Friendship Commission Fellowship (2001), and a grant from The Andy Warhol Foundation (2001).
Pope.L attended Pratt Institute from 1973 to 1975 before receiving his B.A. from Montclair State College in 1978. He also completed the Independent Study Program at the Whitney Museum of American Art and earned an M.F.A. at Mason Gross School of the Arts, Rutgers University in 1981. From 1990 to 2010 Pope.L was a Lecturer of Theater and Rhetoric at Bates College and since 2010 he has been an Associate Professor at the University of Chicago. In 2004 he served as a visiting artist at Skowhegan School of Painting and Sculpture.