Raha Raissnia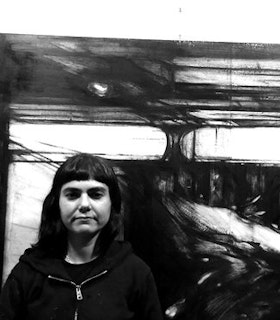 The year 2011 proved to be one of the most productive years of my artistic career. I felt so fortunate to be able to devote all of my time, energy, and focus solely on my creative work. All of the money I received from the FCA grant was spent to support me with rent, food, and art supplies towards creating works for several exhibitions and nothing else. Fortunately I was in great health and worked with much exuberance. The grant gave me much confidence and I let the muses guide me through a joyful flow of creativity!
- Raha Raissnia, December 14, 2011
Artist Statement
All three areas of my practice­­––painting, drawing, and filmmaking––are interconnected and interdependent. My films and paintings influence one another, and through creating drawings I investigate this influence. My painting practice brings and adds elements of abstraction to the vision I capture onto film and my films bring in elements of reality into my paintings. What reveals itself as a subject matter in all my work is of human vulnerability. Although at times my work seems to allude to the dismal, my philosophy is optimistic and believes in human integrity.
My process is layered and permutational. It makes use of both old and new technologies and relies heavily on what my hands can achieve. Music and sound play a major role in both inspiring and forming completed works. The act of collaboration and performance expand in the same degree as they bring acuteness to the continuum of my work. My film work can be associated with expanded cinema practice where I manipulate cinema's structural elements in regards to space, time, projectors, and screens in live performances. I physically modify my projectors, mainly 16mm, super 8, and various types of slide projectors and play them like musical instruments.
- December 2014
Biography
Raha Raissnia is an artist whose practice encompasses painting, drawing, filmmaking, and performance. She gained exposure to avant-garde filmmaking as an intern at Anthology Film Archives. Creating layered works in various mediums, her performances have involved projecting films and slides onto her large paintings, with musical accompaniment. Raissnia has collaborated with musicians such as Charles Curtis, Briggan Krauss, Dalius Naujo, Doron Sadja, and Aki Onda.
With the support of her Grants to Artists award, Raissnia created several new works for exhibitions, including Cosmography at The Kitchen (2011) and Early Spring, a solo exhibition at Miguel Abreu Gallery (2011). In the same year, she traveled to install her film installations in group exhibitions in Brazil, Paris, and created works for Art Basel, Miami Beach.
Since the time of her grant, Raissnia's work has been the subject of solo exhibitions at Miguel Abreu Gallery, New York, and Galeria Marta Cervera, Madrid. Her work has been included in group exhibitions at Miguel Abreu Gallery; the Heimbold Visual Arts Center, Sarah Lawrence College; and White Columns. Raissnia's film screenings and performances have taken place at venues including ISSUE Project Room, The Kitchen, The Stone, The Firehouse Space, Dundee Contemporary Art Festival in Scotland, and the 56th Venice Biennale.
Prior to her Grants to Artists, Raissnia received a Dodd's Travel Grant (1998), a Vermont Studio Center Fellowship (1999), a Pratt Institute Delacroix Award for Painting Excellence (2001), and a Pollock-Krasner Foundation Grant (2008).
Raissnia received a B.F.A. from the School of the Art Institute of Chicago (1992) and an M.F.A. from Pratt Institute (2002). She has been an Adjunct Professor of Drawing at the City College of New York, and Parsons the New School of Design.