Rashaun Mitchell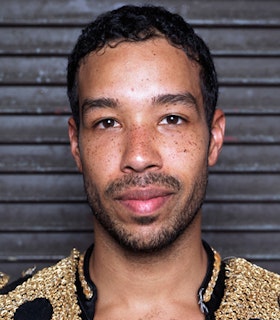 … And finally, I was able to subsidize my most recent premiere, Way In, in collaboration with Silas Riener, Claudia LaRocco, and Davison Scandrett at Danspace Project in St. Mark's Church. For the first time, we were able to hire a project manager for the duration of the process ($2,000). This proved to be incredibly valuable to us and allowed us to focus on making the work itself. The FCA grant allowed us to feel confident enough to hire this person for at least one additional year (anticipated $6,000) to continue those same duties and to begin to develop a long term plan with myself and Silas Riener, with whom I continue to make work.
- Rashaun Mitchell, January 2014
Artist Statement
Performance directly feeds my appetite for change and discovery. I have imagined myself to be an architect, musician, fashion designer, photographer, anthropologist, writer, and wizard, but in my confusion I became a choreographer, identifying the body as a place where all of these forms intersect.
Choreography seems to be about making wishes and seeing if they come true. I'm fascinated with the messy magic of it all, the alchemy of the performer/audience entanglement. I'm deeply enamored by the shared experience and the social ritual. As a performer and dance-maker, I experience dance as a medium that reflects and highlights the complexities of public and private human interactions. My research examines the building blocks of communication, the implicit agreement between giving and receiving, power dynamics, alienation, behavioral fluency, and mimicry––all within the realm of rigorous physical and mental organization.
Rather than creating some kind of quantifiable and recognizable stylistic signature, I prefer to engage with each dance from a new place, to tackle the immediate artistic questions with a scrutiny of form that is appropriate for the task at hand. In this way, each work stands on its own as a unique experience. I believe dance is an earthly form with the ability to create meaning and connection beyond the physical realm. My work aims to offer a liminal space for infinite shared experiences, past, present, and future.
- December 2014
Biography
Rashaun Mitchell is a choreographer and performer. His choreography has been presented in New York City by Danspace Project, Baryshnikov Arts Center, Lower Manhattan Cultural Council, La MaMa Moves Festival, Mount Tremper Arts, and at Skirball Center at New York University. As a performer, Mitchell has worked with artists including Chantal Yzermans, Donna Uchizono, Pam Tanowitz, Risa Jaroslow, Sara Rudner, Jonah Bokaer, Richard Colton, Deborah Hay, Rebecca Lazier, and Silas Riener. With support from his Grants to Artists, Mitchell premiered two new works in 2013, Interface at Baryshnikov Arts Center, and Way In at Danspace Project.
Following his 2013 FCA support, Mitchell and Silas Riener were listed in Dance Magazine's "25 to Watch" and were selected for Lower Manhattan Cultural Council's inaugural Extended Life Development Program (2013). Mitchell received a John Simon Guggenheim Memorial Foundation Fellowship (2014), and in 2014, Mitchell and Riener were New York City Center Choreographic Fellows and artists-in-residence at Wellesley College. Prior to his 2013 Grants to Artists, Mitchell received a Princess Grace Award: Dance Fellowship (2007), a New York Dance and Performance "Bessie" Award for Sustained Achievement in the work of Merce Cunningham 2004-2012 (2011), and a "Bessie" Award for Outstanding Emerging Choreographer (2012).
Mitchell is a Cunningham Fellow and a licensed stager of the company's repertory. He has been on faculty at Sarah Lawrence College and is a full time professor of dance at New York University's Tisch School of the Arts. He received a B.A. from Sarah Lawrence College.