Regina José Galindo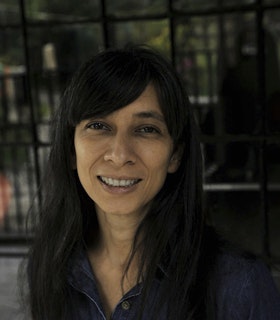 Biography
Regina José Galindo is a performance artist and poet whose work primarily explores Guatemalan political and social problems. Her work investigates the universal ethical implications of social injustice and discrimination related to race, gender, and other abuses inherent in the unequal power relations that operate in society. Galindo works beyond the limits of her own self, recreating and representing violent acts and the victims in a radical way, drawing the spectators into the discomfort of the situation, making them see and feel the situation as the victim, and creating an atmosphere of empathy and critical thinking.
Galindo has received the Golden Lion for a Promising Young Artist in the 51st Venice Biennale (2005) for her works ¿Quién puede borrar las huellas? and Himenoplastia, which critique Guatemalan violence arising from misconceptions of morality and gender discrimination while demanding the restitution of the memory and humanity of the victims.
She has participated in three additional Venice Biennales, Italy (2001, 2009, 2011); documenta 14 in Athens, Greece and Kassel, Germany (2017); the 4.Berliner Herbstsalon, Berlin, Germany (2019); the Aichi Triennale in Nagoya, Japan (2019); Wuzhen International Contemporary Art Exhibition in Tongxiang, China (2019); the International Biennial of Cuenca, Ecuador (2007); the Ljubljana Biennial of Graphic Arts, Slovenia (2011); the Shanghai Biennale, China (2016); the Biennial of Pontevedra, Spain (2010); the 17th Biennale of Sydney, Australia (2010); and the Moscow Biennial, Russia (2007), among other international biennials and exhibitions.
Her work is in the collections of The Museum of Modern Art, New York, NY; Tate Modern London, United Kingdom; Centre Pompidou, Paris, France; Solomon R. Guggenheim Museum, New York, NY; Castello di Rivoli Museum of Contemporary Art, Turin, Italy; Daros Collection, Hurden, Switzerland; Peréz Art Museum Miami, Miami, FL; UBS Art Collection, Lausanne, Switzerland; and the Cisneros Fontanals Art Foundation, Miami, FL; among others.
Galindo received the Prince Claus Award (2011) from Prince Claus Fund for Culture and Development in recognition of her ability to transform personal anger and injustice into powerful public events that disrupt ignorance and complacency in order to approach the experience of others. She has won the Grand Prize at the 29th Ljubljana Biennial of Graphic Arts (2011), first prize in Juannio Guatemala (2010), and first prize at Inquieta Imagen V, Museum of Contemporary Art and Design, San José, Costa Rica (2007). Galindo has received residencies at Třebešice Castlein in Třebešice, Czech Republic, Le Plateau in Paris, France, and Artpace San Antonio in San Antonio, TX.
Artist Statement
I believe in the potentiality of Art to generate dialogues between people, I believe in its capability to communicate, to break the order and make questions. I think Art is a free space, one of the few that remains.
I discovered the potentiality of the body in Art in the 90s in Guatemala, and since then it has been and still is my biggest field of investigation.
The body, seen in its own context and history, the body as center and periphery, the body seen from below, from my short height of one meter and forty-nine centimeters.
Guatemala, too, is many times in the center of my concerns and therefore many times present in my work. Guatemala and its horrible history of violence. Guatemala and its struggle for memory.
I believe in the incendiary quality of Art. I believe in the innate ability of the hand to light a match.
- December 2020