Renee Gladman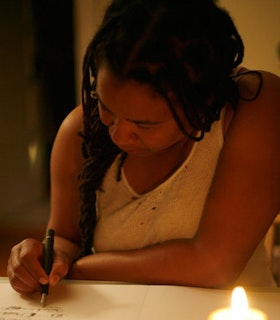 What's wonderful about the FCA Grant to Artists is that it comes as a surprise. It arrives out of the blue and blesses everything... [to] receive this generous award from a Foundation started by some of the most important artists of the last century was a real triumph. Being brought into association with visual artists, performers, and dancers was exactly the kind of context I needed to go on expanding my boundaries around what poetry is and what the line does, and to do this with the awareness that others had noticed and found what I was doing worthy. It is amazing to receive 40,000 dollars in the mail, that resource is tremendous; but this other part, where the acknowledgement lightens everything and gives you space to open new ways of thinking and producing, that is eternal.
- Renee Gladman, December 13, 2016
Artist Statement
Over these first twenty years of my career, I have been preoccupied with how narrative emerges from spaces of thought into fields of writing. These fields have taken various shapes: the novel, the essay, experimental memoir, poetic prose, and, most recently, abstract line drawing. I have always approached language and, in particular, the sentence, as a space to enter, to travel within. The sentence is a terrain along which experience and thinking occur. Em dashes, commas, semi-colons, etc. are places of interruption, derailment; they are sometimes the mirror and sometimes the antithesis of experience. Ellipses are windows. Each word is an architecture. The length of the sentence (to read it, to write it) is like breathing in time, or like being in a time that reveals its mechanics, shows you how the clock moves. But the sentence—and this is what I've most loved about it—is also a conundrum. It urges you forward as if you know where you're going; it requires a subject, a named body; it presumes events and destinations, when maybe you don't know why you're there in the first place, or you're there because you don't know. The sentence is a street, a city for my narrators. In all of my books, there is someone who's trying to make sense of the landscape, of the labyrinth of human encounter. Some years ago, I began to see that the sentence was like many other lines found in the world—lines were drawn or produced unintentionally, like scratches. And I realized that the sentence could be drawn and by drawing the sentence I could put my body inside the event of writing, I could stand behind or inside narrative as it emerged from the mind. This new sentence-line extends beyond the linear, the linguistic, becoming buildings, bridges, entire cities. The novels inside the drawings show a capacity for breath I had not previously known.
- December 2015
Biography
Renee Gladman is an artist and writer preoccupied with lines, crossings, thresholds, geographies, and syntaxes as they play out in the interstices of poetry and fiction. She is the author of nine works of prose and one collection of poetry.
Gladman's 2016 Grants to Artists award supported the publication of Prose Architectures (Wave Books, 2017), an interdisciplinary project exploring the continuum between sentences and drawings, and Calamities (Wave Books, 2016), her first collection of essays and ninth book overall. Gladman's other works of prose include Juice (Kelsey Street Press, 2000), The Activist (KRUPSKAYA, 2003), Newcomer Can't Swim (Kelsey Street Press, 2007), To After That (Toaf) (Atelos, 2008), and the Ravicka novels, Event Factory (2010), The Ravickians (2011), and Ana Patova Crosses a Bridge (2013), all published by Danielle Dutton's Dorothy Project.
Gladman's own publishing ventures comprise the zine Clamour (1996-1999), Leroy Chapbook series (1999-2003), and the perfect-bound press Leon Works (since 2005).
In 2014-2015 Gladman was a fellow at Radcliffe Institute for Advanced Study at Harvard University. Gladman studied Philosophy at Vassar College, where she received a B.A. in 1993 and Poetics at New College of California, where she completed an M.A. in 2006. She has taught at several U.S. universities, most extensively as a professor of creative writing at Brown University from 2006-2014.