Richard Maxwell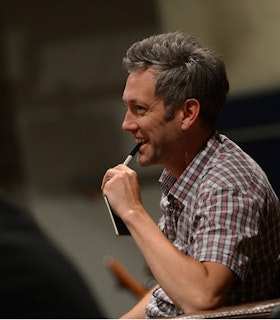 Artist Statement
Yesterday, I was at Genovese buying the big 2.5-gallon bottled water and I was the only person in this giant pharmacy standing right at the checkout counter. I was reading a magazine with my water and the clerk was standing facing me, idle. I was standing three feet from her but she got on the intercom and blasted full on that her station was open with no waiting. I looked up from my magazine and I realized she was talking to me. So I put down my magazine and brought my water to her.
This may not seem to be on the surface like a profound experience, but for me, this one exchange would be enough to not only spark a play, but also perhaps BE an entire play. I see a situation that has a beginning, a middle, and an end. I see two clearly defined characters, defined by dress and speech, which tells us class, race. I see a relationship, costumes, setting, a whole atmosphere, humor, and time. This is enough to begin and hopefully enough, period. And I find that the task then is to balance the duplicity of garnering as much as possible from that isolated and insignificant experience without attaching intended meaning to it.
- 2001
Biography
New York City Players (NYCP) is a theater company founded in 1999 by Artistic Director Richard Maxwell. Maxwell is a playwright who creates narrative-driven works that incorporate the repetition and artificiality of the theater.
Maxwell's 2000 Grants to Artists award supported the works Boxing 2000 and Caveman. His subsequent works include Ads (2010), a video play; Neutral Hero (2011); Devotion (2011), a series of dances by Sarah Michelson with text by Maxwell; and House Of Dance (2013), a play written and directed by Tina Satter. In 2014, Maxwell's work Isolde was presented at Abrons Arts Center and in January 2015, he premiered The Evening at the Walker Art Center, later presented at The Kitchen.
Maxwell's video works have been exhibited at Greene Naftali Gallery, White Columns, and Anthology Film Archives. NYCP has been presented in New York and in over twenty countries. His plays have been commissioned by Festival d'Automne, Paris; Kunstenfestivaldesarts, Brussels; Project Arts Centre, Dublin; the Barbican Centre, London; Theater Bonn, Germany; the Wexner Center, Columbus; and Performance Space 122; The Kitchen; and Soho Rep. in New York. Maxwell was an artist in residence at the 2012 Whitney Biennial. He is the author of Theater for Beginners (2014), which explains his process of theater-making and aesthetic philosophy.
Years after his 2000 Grants to Artists award, Maxwell was named a 2010 John Simon Guggenheim Memorial Foundation Fellow. He received a 2012 Doris Duke Performing Artist Award, a 2012 Obie for his direction of Early Plays by Eugene O'Neill, a collaboration with The Wooster Group, and a 2014 Spalding Gray Award. Prior to his 2000 FCPA grant, Maxwell was awarded a 1999 Obie for House.
Maxwell studied acting at Illinois State University. He was the founder of the Cook County Theater Department in Chicago.