Robert Ashley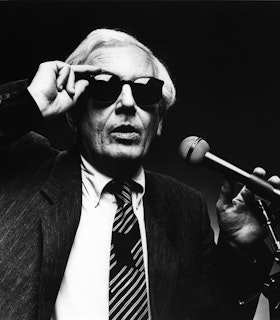 Artist Statement
The basic vocal technique of Celestial Excursions is important to describe here, because I believe that this technique has not been used before—in opera or in any other kind of vocal writing. It came after ten years of thinking—off and on, of course, while I was composing other things—about how to realize an idea I had about the multiple-voices that "represent" the multiple-characters in the opera, Dust.
The ensemble of their speaking is what I am interested in—or, more precisely, the ensemble of their ideas, not, precisely, the sounds. I am interested in many stories (monologues) being told at the same time. (One could think of the simultaneous monologues as a kind of wonderful jungle full of exotic things that are there together and, so, create a jungle.)
I know, however, that any listener (the audience) is offended by and resents being forced to give attention to more than one source of spoken (or sung) information, if there is no "hierarchy" to this information. Two sentences at the same time is bad. This is a fact. It is a deep, biological adaptation, which protects us from harm. (Air-traffic controllers have to be trained away from this adaptation, or there would be no air-traffic.)
In the recent past composers (myself included) have defied this law for artistic reasons. But in Celestial Excursions I want to obey the law—one thing at a time, please—in order to give each of the stories its own dignity. And I want to have many stories all in play at the same time.
The technique involves a principal voice—the main story at any particular moment—which sings on the meter of the orchestra; in other words, on the first beat (or second or third beat, etc.) of every measure. The principal voice is "chased" by, say, four other voices, whose parts rotate in sequence in a given order. (If we call the other four voices "A," "B," "C," "D," then it is clear that the order of the other four voices never changes.)
The musical "idea" of Celestial Excursions is to capture the kind of speech that is common among "old" people when they are among themselves, especially in a group of four or five.
I qualify to do this work in more ways than one. I will be seventy-three years old when this description is read. For typical family reasons at my age (a sickness in the family), I have spent a lot of time over the last five years in the company of persons even older than I. It has been a revelation for me. With the exception of a few condescending and silly movies, "old" people are one of the few "minority" groups basically unrecognized in the arts. Not that they care, but among the "marginalized," old people are the most marginalized, because, obviously, unlike racial or ethnic groups or the poor, they have no future. Or rather, in the most important sense, their future will never change for the better.
Celestial Excursions is an exploitation of uncharted territory—the wild intermingling of reminiscence, regret, love, nightmare, old sayings, songs on the radio—all seemingly to no purpose, except for the operatic purpose of relentless speed and precision in ensemble singing and the possible stage-magic inherent in illusion, hallucination, and a physically changed state of the senses.
I composed the orchestra music for Celestial Excursions almost entirely in the computer-synthesizer studio, with the addition of a live piano in performance. (This is the way I have worked for the past twenty years.) All of the voices and the orchestra (on multi-track tape or on disc) are "processed" again in performance in order to match the sound of the opera to the performance space.
- 2003
Biography
Robert Ashley was a composer known for his operas and multi-disciplinary works that combine video, electronic music, and improvisation. He created a vocal style that blends speech and song. Ashley organized the ONCE Festival of Music with Gordon Mumma. From 1964 to 1969 Ashley directed the ONCE Group, a performing arts ensemble that toured the United States. In 1966, Ashley formed an experimental composers' collective, Sonic Arts Union, with Gordon Mumma, David Behrman, and Alvin Lucier. He toured with the group throughout the United States and Europe until 1976.
Ashley first began creating his multimedia operas in the 1960s, notably in memoriam... KIT CARSON (1963) and That Morning Thing (1967). In 1980, The Kitchen commissioned Ashley's Perfect Lives (1991), an opera for television divided into seven half-hour episodes that was broadcast in Great Britain, Austria, Germany, Spain, and the United States and has been screened at film and video festivals internationally. Ashley's commissioned works include Outcome Inevitable (1991) for Relâche Ensemble, Atalanta (Acts of God) (1985) for the Museum of Contemporary Art, Chicago, and When Famous Last Words Fail You (1997) for the American Composers Orchestra.
Ashley's 2002 John Cage Award supported the production of his opera Celestial Excursions (2003). His works following his 2002 FCPA award include Concrete (2007), Chamber Music (2011), a restaging of That Morning Thing for Performa 11 at The Kitchen, and The Old Man Lives in Concrete (2012). Ashley's opera Crash premiered at the 2014 Whitney Biennial shortly after his death. An FCA Emergency Grant supported the production of Crash, Vidas Perfectas, and The Trial of Anne Opie Wehrer and Unknown Accomplices for Crimes Against Humanity, which were all directed by Alex Waterman and shown at the Whitney Biennial. He composed music for the dance companies of Trisha Brown, Merce Cunningham, Douglas Dunn, and Steve Paxton. He also produced original music and soundtracks for George Mnupelli's art films. Ashley's work has been performed at Merkin Concert Hall, the Brooklyn Academy of Music, and Florida Grand Opera in Miami.
In 2008 Ashley received an American Music Center Letter of Distinction award.
Ashley graduated with a Mus.B. in Music Theory from the University of Michigan in 1952 and earned a Mus.M. in Piano and Composition from the Manhattan School of Music in 1954. Ashley was Director of the Center for Contemporary Music at Mills College from 1969 to 1981.