Robert McGrath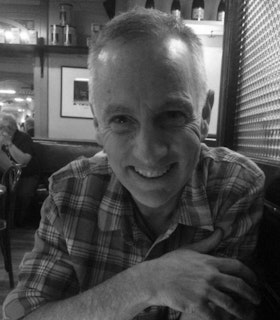 I can't even begin to tell you how great an honor it was to receive the grant. It changed my financial situation dramatically but even more important was how it changed my own self perception.
- Bob McGrath, January 1996
Biography
Bob McGrath is a Founding Artistic Director of Ridge Theater, where he has remained Director since 1987. Ridge Theater's productions position performers within film and video projections to challenge traditional theatrical boundaries. Dramatic staging by McGrath, haunting film works and projections by filmmaker Bill Morrison and visual stylings by artist Laurie Olinder are all hallmarks of the Ridge Theater style.
He has directed theater and opera at venues including the Brooklyn Academy of Music, Lincoln Center, The American Repertory Theater, Carnegie Hall's Zankel Hall, The Kimmel Center-Verizon Hall with The Philadelphia Orchestra, Krannert Center, Vineyard Theater, St. Ann's Warehouse, La MaMa E.T.C., and The Kitchen. His direction abroad includes Queen Elizabeth Hall, London; Cité de la Musique, Paris; Muziekebow, Amsterdam; Oi Casa Grande Theater, Rio de Janeiro; and De Singel, Antwerp. He has collaborated with composers, writers, and conductors including John Adams, Gavin Bryars, Ben Katchor, David Lang, Michael Gordon, Neil LaBute, Warren Leight, Mark Mulcahy, Ben Neill, Yannick Nezet-Seguin, D.B.R. Daniel Bernard Roumain, Mikel Rouse, John Moran, Susan Sontag, Robert Spano, DJ Spooky, Mac Wellman, and Julia Wolfe.
Since his 1995 FCPA support, McGrath has received two Obies: for Best Production of The Carbon Copy Building in 2000, and for Direction of Jennie Richee in 2001. In 2008 he received nominations for the Drama Desk Award and the Lucile Lortel Award for Directon for The Slug Bearers of Kayrol Island in 2008. Prior to his 1995 Grants to Artists award, McGrath was the recipient of a 1994 Obie Award for Sustained Achievement. His directing projects have been supported by grants from the Rockefeller Foundation MAP Fund, National Endowment for the Arts, New York State Council on the Arts, The Greenwall Foundation, The Andrew W. Mellon Foundation, Association of Performing Arts Presenters, Sony Corporation, Puffin Foundation, and Peg Stantvoord Foundation, among others.
McGrath received his B.F.A. in Directing from Carnegie Mellon University and participated in a Master Directing Workshop with Lee Breuer. He has been a guest lecturer at New York University, Columbia University, Harvard University, Sarah Lawrence College, Julliard School of Drama, University of Houston, University of Georgia, Carnegie Mellon, and Eastern Connecticut State University. He has served on the faculty of New York University, Eugene O'Neill Theater Center, and Sarah Lawrence College. He is Associate Professor of Directing and Dramaturgy at Virginia Polytechnic Institute and State University.